Al Leonard
Al Leonard, Executive Vice-President, Capital Infrastructure Project Delivery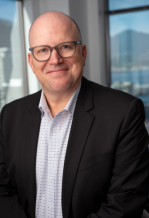 Al Leonard is BC Hydro's Executive Vice-President, Capital Infrastructure Project Delivery. Al joined BC Hydro in 1998 and has held positions in a number of areas across the organization including properties, strategic partnerships, and customer care. Prior to his current position he was the Director of Indigenous Relations.
Al leads the delivery of BC Hydro's capital infrastructure projects of over $500 million per year – about 300 projects with the exception of Site C. His portfolio includes Indigenous Relations, Properties, Project Delivery and Environment. These groups are critical business partners that support BC Hydro's projects. Together they ensure the projects that are vital to reliably meeting the province's electricity needs are completed on time and within budget, while considering Indigenous interests, the environment and meeting our greenhouse gas reduction targets. Al and his team lead BC Hydro's efforts towards advancing reconciliation with Indigenous peoples, by working with Indigenous nations to build mutually-beneficial relationships and implementing the United Nations Declaration on the Right of Indigenous Peoples (UNDRIP).
Prior to joining BC Hydro, Al worked for Canada Post Corporation, where he headed up the National Account program for the utility and finance sectors. Al completed a Bachelor of Commerce from the University of British Columbia and is active in his community and on a number of external boards.