Al Leonard
Al Leonard, Senior Vice-President, Capital Infrastructure Project Delivery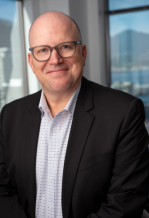 Al Leonard is BC Hydro's Senior Vice-President, Capital Infrastructure Project Delivery. Al joined BC Hydro in in 1998, holding positions in a number of areas of the organization including properties, strategic partnerships, and customer care. Most recently, he was the Director of Indigenous Relations.
Al leads BC Hydro's approximately $1 billion per year capital investment program. He oversees more than 450 capital projects, including Peace Region Electricity Supply, Bridge River System Upgrades, as well as the John Hart Generating Station Replacement Project. His portfolio includes Indigenous Relations, Properties, Project Delivery and Environment. These groups are critical business partners supporting BC Hydro's projects. Together they ensure the projects vital to reliably meeting the province's electricity needs are completed on time, within budget and with consideration to Indigenous interests and the environment.
Prior to joining BC Hydro, Al worked for Canada Post Corporation, where he headed up the National Account program for the utility and finance sectors.
Al completed a Bachelor of Commerce from the University of British Columbia and is active on a number of external boards.