Lower Mainland and Coast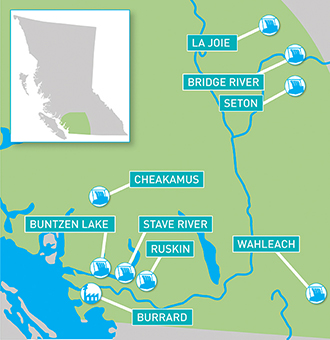 Where: The south coast, Lower Mainland and the Fraser Valley, stretching from Bridge River (near Lillooet) to Port Moody in the Lower Mainland.
Facilities:
13 hydroelectric facilities, originally built between 1911 and 1960.
1 thermal plant, decommissioned in 2016.

Total capacity: About 1,104 MW, about 9.3 per cent of BC Hydro's total capacity.
Total power generated: The coastal region generates an average of about 4,700 gigawatt-hours (GWh) a year, about 10 per cent of the total 46,000 GWh.
BC Hydro's total generating capacity
BC Hydro's total generating capacity is based on the nameplate capacity of each facility.
These numbers are updated annually. Percentages are based on BC Hydro's total generating capacity of 12,048.9 MW which includes hydroelectric, thermal and diesel generating stations owned by BC Hydro.