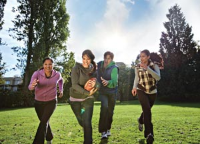 Giving our brightest students a boost
Just as we work hard to build a bright energy future, we know there are students in B.C. who are working to grow their schools and communities. BC Hydro is proud to recognize these future leaders and role models with scholarships.
What we look for
We look to build the next generation of engineers, electricians, and many other key roles who will help us deliver clean energy for generations. We are thrilled to support students who are not only committed to a post-secondary education, but who are good examples of how to maintain a healthy life balance.
Select on the following links to jump ahead to get information about specific awards programs:
BC Hydro post-secondary scholarships
BC Hydro's student awards are administered directly by post-secondary institutions across the province. For more information, please visit the websites of the specific institution.
British Columbia Institute of Technology
Civil Engineering Technologist Diploma (one award)
Mechanical Engineering Technologist Diploma (one award)
Electrical Technologist Diploma (four awards)
Automotive Service Technicians (two awards)
Millwrights/Industrial Mechanics (two awards)
Environmental Protection Technologists (three awards)
University of Northern British Columbia
Bachelor of Arts in Environmental Studies with a Minor in Global Environmental Change (three awards)
Indigenous scholarships and bursaries
BC Hydro is proud to support education and skill development in B.C.'s First Nations communities. We are committed to developing a diverse and inclusive workforce which is representative of the communities we serve.
Along with the other scholarships listed, BC Hydro Indigenous scholarships and bursaries are available to Status, Non-Status, Metis and Inuit students who are residents of B.C. and are enrolled in an accredited post-secondary program. Students in Grade 12 planning to pursue an accredited post-secondary education within Canada are also eligible to apply.
We offer the following scholarships and bursaries:
One Randy Brant Memorial scholarship – awarded to our top applicant, based on a combination of academic achievement, community involvement, and pursuit of a BC Hydro career.
$5,000 scholarships allocated to students pursuing an undergraduate or graduate degree with a full-time course load.
$2,000 bursaries allocated to students pursuing a diploma, certificate or trade program, or a part-time degree.
Applications will be accepted from April 1st to May 15th, 2018.
The application form can be found here [PDF, 559 KB].
BC Hydro Trades and Skilled Training Award
The BC Hydro Trades & Skilled Training Award and BC Hydro Trades & Skilled Training Aboriginal Award are bursary programs that help qualified students with tuition and other expenses up to $5,000 for eligible programs at Northern Lights College. Additional funding to cover living expenses may be available based on financial need and personal circumstances.
BC Hydro engineering scholarships
Through our partnership with the Association of Professional Engineers and Geoscientists of B.C. (APEGBC), BC Hydro provides 10 engineering scholarships. For more information please visit APEGBC.
BC Hydro endowments
BC Hydro provides 23 province-wide endowment scholarships through 19 different institutions. For more information, visit the websites for the following post-secondary institutions.