Safety information for contractors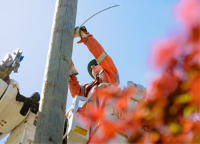 Safety requirements essential for contractors
The information on this page is for prospective BC Hydro contractors who plan to bid for work.
Are you a prospective or current BC Hydro contractor?

Contractors who are working for or who intend to work for BC Hydro must be compliant with WorkSafeBC and other relevant legislative and regulatory practices.
As a contractor working for BC Hydro, you must be fully aware of the high risk work activities that carry the greatest threat of serious injury or death.
Prospective contractors

If you're a prospective contractor who plans to bid for work with BC Hydro, please refer to the safety information below, including the Life Saving Rules briefing package. The information highlights the importance of safety at BC Hydro and the safety requirements that must be observed.
Current BC Hydro contractors

If you're already working for BC Hydro under a contract, you must ensure you're accessing the most recent, detailed information available via our contractor Safety Extranet. Extranet access will be arranged by your BC Hydro representative once work has been awarded.
Safety information for prospective contractors
Contractors working for BC Hydro are responsible to work to the expectations specified in their contract, including adherence to BC Hydro rules and standards.
Our most current safety policies and procedures can be found on the Safety Extranet, a password-protected area that's available once a contract is awarded.

Here are some examples of our primary safety information:
Note: Our most current safety information including policies and procedures can be found on our contractor Safety Extranet once a contract is awarded.
BC Hydro disclaimer: BC Hydro does not accept any liability or responsibility of any kind arising from inappropriate use of any of our safety information

Life Saving Rules clearly define how to prevent serious injuries
A set of Life Saving Rules has been developed that clearly defines what you must do to prevent serious injuries or fatalities. The rules are not new – they are designed to raise awareness around existing rules in the Safety Practice Regulations, OSH Standards and other safety regulations.
Jointly endorsed by BC Hydro and its unions (IBEW and MoveUP), the rules have been developed with input from the workforce to ensure they are meaningful and practical to workers.
For easy access to Life Saving Rules briefing materials, we have downloadable documents, presentation and other resources available on this page.
How to use the Life Saving Rules
The Life Saving Rules have been incorporated into BC Hydro's Safety Practice Regulations, and we expect all contractors and employees to follow these rules.
All current and new contractors who have been awarded work with BC Hydro will need to ensure that their staff and subcontractors are briefed about the rules.
BC Hydro contractors are encouraged to use the Life Saving Rules briefing package, which is available for download on the right side of this page. The nine Life Saving Rules are listed below.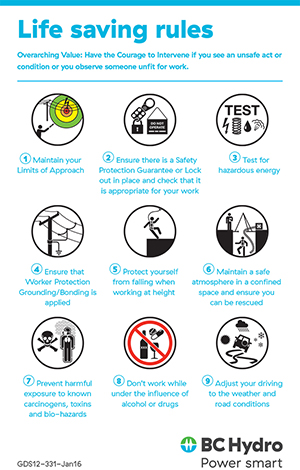 Safety Practice Regulations (2017 edition)

These regulations and instructions govern all work done by or for BC Hydro and all access to our power system. Every worker must observe all rules that apply to his or her particular job and worksite.
2017 Safety Practice Regulations (Updated December 2017) [PDF, 2.0 MB]

Occupational Safety and Health (OSH) standards

These standards cover expectations for managing safety. They complement and reinforce existing safety legislation, including WorkSafeBC's Occupational Health and Safety regulations.
The OSH standards are applied in conjunction with the above Safety Practice Regulations. It's expected that contractors working for BC Hydro will meet the performance expectations expressed in the OSH standards.
Note that work procedures used by contractors to meet these OSH Standards are the responsibility of the contractor, but they must be acceptable to BC Hydro.
BC Hydro's Occupational Safety & Health Standards for prospective contractors (Last updated December 22, 2016) [PDF, 6.1 MB]