Plan ahead for evacuations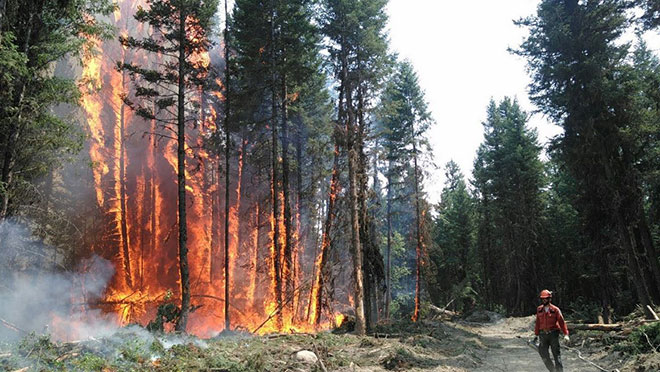 copy needed?
How to prepare for an emergency evacuation
In an emergency, such as a wildfire, flood, or earthquake, you may be ordered to leave your home at a moment's notice. Plan ahead and know what to do to help you and your family stay safe.
Develop an emergency evacuation plan
Check PreparedBC for more information on how to prepare an emergency plan and a downloadable plan template.
Share your plan with your family and be sure that everyone knows what to what to do.

Include plans for what you'll do in the event of an extended power outage.
Make note of where your main electrical power switch is, label it, and know how to shut if off safely should you have to leave your house during an emergency.
Make a list of local emergency contact numbers (fire, police, ambulance, etc.).
Prepare an emergency kit with enough supplies for you and your family for at least 72 hours and store it in an easy-to find location.

What to do during an evacuation
If you're under an evacuation order:
Turn off all unnecessary appliances, such as air conditioners and hot tubs.
Unplug sensitive electrical equipment and appliances, such as televisions and computers.
Remove food from your refrigerator and leave the door open before evacuating, but only if there's enough time to do so.
Turn off all lights except for one exterior light, which will indicate to BC Hydro crews that power is on at the residence.
Learn about bill credits and payment plans we offer for residential and small business customers evacuated due to a flood, wildfire, or other type of emergency.
Power outages and disconnections during evacuations
We aim to keep power on for as long as possible in communities affected by evacuation orders and alerts. Power will only be disconnected when there's an immediate threat to our infrastructure or concern for the safety of the public or emergency responders. Note that our crews are restricted from entering evacuated areas to restore power during an outage.
Returning home after an evacuation
When the evacuation order has been lifted, if you experience problems with your power, call 1-800-BC HYDRO (1 800 224 9376). Depending on the extent of damage, power could be out for several days. We'll coordinate with agencies and local authorities to restore services.
If your power has been disconnected due to a flood, see the steps to take to get your power reconnected.