Planting trees and plants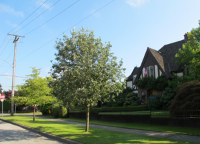 We love your green thumb
Plants and trees are a great way to keep your yard beautiful and to provide shade for your home.
Follow our guidelines to make sure that your trees and plants are a safe distance from power lines.

Plant the right trees and plants, and call before you dig
While not every corner of B.C. is suitable for planting year-round, we all like to use plants and trees to beautify our surroundings. They can also be used for privacy and to create opportunities to save energy.
If you're going to do some planting, plan carefully. And remember to always call or click before you dig:
Call or click before you dig: BC One Call
BC One Call helps you find out what's buried on your site and where not to dig.
Before digging or excavating, make a free telephone call or submit an e-request to locate any underground electrical or other infrastructure.
Call 604 257 1940 in the Lower Mainland, 1 800 474 6886 toll-free elsewhere in B.C. or submit an e-request.

Be safe when planting: look up and down

Mark Madryga reminds you that when putting new plants in the ground, you should be sure to look up, for power lines, and down, for underground utility lines. Call before you dig. It could save your life.