Ken Duke
Senior Vice-President & General Counsel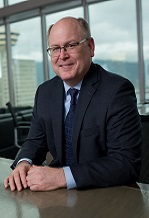 Ken Duke is BC Hydro's Senior Vice-President & General Counsel, responsible for Legal Services and the Freedom of Information Coordinating Office. Ken joined BC Hydro's Legal Services department in 2008 and was appointed General Counsel in 2017.

Ken leads a team that supports the Board and Executive Team, provides legal advice and services to all aspects of BC Hydro's business and manages compliance with access to information and privacy laws.

A member of the BC Law Society, Ken has practised as a lawyer since 1996. He has a law degree and Masters of Public Administration from the University of Victoria. Before BC Hydro, Ken worked for a Vancouver law firm and Alcan.