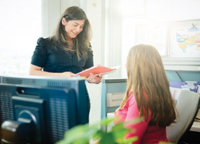 What is an energy manager?
Energy management is not just about implementing energy efficient technologies–it's also about people. An Energy Manager's goal is to create a culture within an organization where energy efficiency is regular business practice.
What does a successful Energy Manager look like?
An effective Energy Manager:
Is able to demonstrate the value of the position within the organization.
Implements significant energy savings projects that make good business sense.
Increases the Energy Management Assessment score each year.
Engages people at all levels of the organization in being more energy efficient both at home and at work.
Tips for new Energy Managers
Get to know the stakeholders at all levels of your organization. Understand their roles, responsibilities and interests.
Review the 5 Critical Actions within the Energy Management Assessment Report, as this will provide you with your work plan over the next 12 months.
Keep in the back of your mind that your Strategic Energy Management Plan will also need to be completed within 12 months. Familiarize yourself with the information that is required.
Contact your BC Hydro Key Account Manager to arrange a meet and greet and allow you the opportunity to clarify any of the Five Critical Actions or expectations of the BC Hydro Energy Manager Program.
Book all your quarterly meetings and your EMA session through your Key Account Manager by sending Outlook meeting invitations. Base the dates on your contract.
Find out where you keep your utility bills. If possible, start analyzing your utility bill for trends over the last five years.
Contact us today
The Energy Manager opportunity is only available as part of the Leaders in Energy Management Program. To find out more, contact your Key Account Manager or call 604 522 4713 in the Lower Mainland, 1 866 522 4713 elsewhere in B.C.