Stakeholder engagement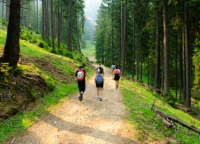 Early involvement, clear expectations
British Columbia is growing and so is our need for reliable power. Although there are many issues and considerations underlying how BC Hydro plans for B.C.'s electricity future, filling the electricity shortfall will be met in three fundamental ways.
Put simply, it means conserving more, building more capacity through reinvesting in existing heritage assets and considering new larger-scale projects and buying more from Independent Power Producers (IPPs).
A number of different acquisitions processes are underway to help BC Hydro acquire some of the electricity needed to meet the forecasted electricity demand.
BC Hydro believes that those affected by our business should be informed about our activities, be involved in transparent processes and have an opportunity to participate in those activities that affect them.
In designing our acquisitions processes, we involve:
Independent power producers
First Nations
Provincial and local governments
Customers
Industry
Environmental groups
Non-government organizations and other stakeholders.
Generally, engagement consists of:
Involving others early in the process
Setting clear expectations with participants
Understanding the historical context
Meeting commitments and providing follow-up
Understanding the values behind stakeholders' positions
Listening carefully and communicating clearly
Being open and flexible around the process and possible outcomes

More specifically, engagement on acquisition processes often consists of the following:
Communicating information out to stakeholders at an early stage
Keeping stakeholders involved and informed about next steps
Holding information sessions and workshops to provide details and seek feedback
Soliciting stakeholder input through online forms and/or written submissions
How you can get involved
We are committed to seeking input early in the development of potential acquisition processes to influence the design of the process and build a mutual understanding of interests between BC Hydro and various stakeholders.
BC Hydro offers a number of ways for those interested to get involved with our processes, including soliciting comments on draft documents during the process design stage and holding workshops and events.
To find out more on how you can get involved, please visit the individual call pages. For more details on upcoming and past information sessions, please visit our Workshops and Presentations page.