Len Boggio, FCPA, FCA, ICD.D
Director, BC Hydro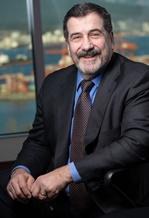 Appointed December 31, 2016
Re-appointed to July 31, 2022
Len has served as a Director to BC Hydro since 2016; and served as an independent advisor to the audit committee of BC Hydro from 2012 to 2016. He also serves as an independent director for several natural resource companies and for Genome BC since retiring as an auditor and partner from PricewaterhouseCoopers (PwC). During Len's 30 years at the PwC he provided services primarily to publicly listed companies, including those in the technology, mining and financial institutions industry sectors.
Len is a Fellow of the Chartered Professional Accountants of British Columbia and has served as the President of the Institute of Chartered Accountants of British Columbia and as the Chair of the Canadian Institute of Chartered Accountants.
In 2019, Len was honoured with the Lifetime Achievement Award from the Chartered Professional Accountants of British Columbia for his 30 + years of professional volunteerism rendering diverse and dedicated service.
Len is an active volunteer and has advocated for children with dyslexia and other learning disabilities through his service with the Kenneth Gordon Maplewood School and related Foundation. He is a respected educator who has taught with the Institute of Corporate Directors and has lectured at Simon Fraser University and the Law Society of British Columbia.
Len is a graduate of the University of Windsor with undergraduate degrees in both Arts and Commerce.