Len Boggio, FCPA, FCA, ICD.D
Director, BC Hydro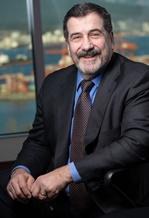 Appointed December 31, 2016
Mr. Boggio has served as an independent director for several natural resource companies since retiring the professional firm of PricewaterhouseCoopers LLP, following a 30 year career as an auditor and partner with the firm.
He is a Fellow of the Chartered Professional Accountants of British Columbia and has served as the president of the Institute of Chartered Accountants of BC and as the Chair of the Canadian Institute of Chartered Accountants. Mr. Boggio is a graduate of the University of Windsor with undergraduate degrees in both Arts and Commerce.
Mr. Boggio was engaged as an independent advisor to BC Hydro's Audit Committee since 2013. He is also a Commissioner of the Financial Institutions Commission of British Columbia.
Mr. Boggio will serve on BC Hydro's Board until July 31, 2020.