Transmission plans & reports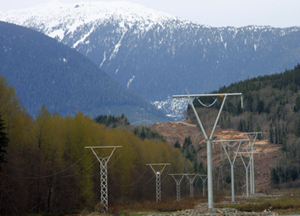 The backbone of B.C.'s economy
BC Hydro is planning for the future by ensuring British Columbia's electricity system has the necessary capacity to meet the needs of our growing province.
Our top priority: ensure transmission is in place to meet demand
A reliable transmission system is the backbone of the B.C. economy, and timely investment in this critical infrastructure is essential to maintaining access to the reliable, efficient and clean energy on which we all depend.
Guidance for BC Hydro's transmission planning is provided by the Clean Energy Act and the Energy Plan: A Vision for Clean Energy Leadership. BC Hydro's top transmission planning priority is to ensure that there is adequate transmission in place meet demand and enable the development of clean and renewable energy.
Transmission regulatory filings
The Clean Energy Act consolidated BC Hydro and BC Transmission Corporation, as of July 5, 2010, to provide a single entity that will plan and deliver the clean energy required to meet British Columbia's growing demand for electricity while fostering job creation throughout the province and helping reduce greenhouse gas emissions.
BC Hydro's transmission projects fall under the regulatory jurisdiction of the British Columbia Utilities Commission (BCUC).
To learn more about past and current regulatory applications regarding transmission projects, visit Other Regulatory Matters within the Regulatory Information section of our website.
Transmission scheduling
To keep our customers and the public informed and up-to-date, BC Hydro provides updated information on transmission scheduling.
For details, see the Transmission Scheduling section, where you'll find sections for the following: