Lynette DuJohn, P.Eng.
Director, BC Hydro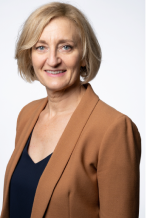 Appointed July 12, 2021

Lynette is the Vice President of Innovation and Chief Information Officer at YVR, a role she's held since 2016. She's a civil engineer with considerable construction experience, cybersecurity expertise and a strong technology background.
She is a member of the Musqueam Indian Band - YVR Airport Sustainability and Friendship Agreement - Relationship Committee and Business Development Opportunities Committee. Additional memberships include the Association of Professional Engineers and Geoscientists of British Columbia, and the Canadian Airport IT Steering Committee that provides strategic advice and thought leadership on digital heath credentials, biometrics, emerging technology, cybersecurity and privacy trends.
Her previous experience includes the role as Chief Information Officer at BC Lottery Corporation. She was previously the Vice Chair of the Council of Chief Information Officers (CCIO) for Province of B.C. and was a Registered Professional Engineer with the Association of Professional Engineers of New Brunswick.
Lynette holds a Bachelor of Science in Civil Engineering from the University of New Brunswick, Fredericton.