Chief Clarence Louie
Director, BC Hydro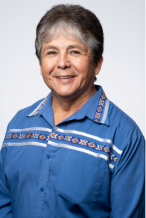 Appointed July 12, 2021

Chief Clarence Louie is the Chief of the Osoyoos Indian Band. He is an entrepreneur, with success in building tourism and industrial enterprises, and has an interest in building strong relationships and advancing reconciliation in the province.
Clarence Joseph Louie was first elected as Chief of the Osoyoos Indian Band in 1984, part of the Okanagan Nation in south central British Columbia. He has consistently emphasized economic development as a means to improve his people's standard of living. The Band owns and operates diverse businesses on the reserve.
Although economic development is the means to achieving self-sufficiency, Chief and Council continues to emphasize the importance of maintaining the Okanagan language and culture in all aspects of the band's activities including business.
In 2006 he was awarded the Order of British Columbia, and the Order of Canada followed in 2016. In 2022 he was inducted to the Business Laureates of British Columbia Hall of Fame. He is currently a member of the Vancouver Fraser Port Board and the Provincial Health Services Board.
Chief Louie attended the University of Regina, (Saskatchewan Indian Federated College) Native American Studies Program, and continued in Native American Studies at the University of Lethbridge.