Catherine Roome
Director, BC Hydro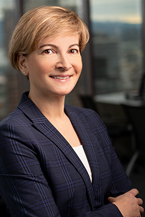 Appointed December 31, 2018
Catherine is a courageous futurist and a leader in the algorithmic economy, where predictive insights are used to create long-term social and financial value. Her purpose is to deliver game-changing strategies that employ technological innovation to serve the public interest.
Recently named one of the Top 100 women in Canada, Catherine is President and CEO of Technical Safety BC, an independent self-funded organization which is mandated to oversee the safe installation and operation of technical systems and equipment across British Columbia. Catherine first served as Vice President, Engineering when she joined BC Safety Authority in 2005, becoming CEO in 2011. Prior to Technical Safety BC, Catherine worked at BC Hydro, where she led the safe, reliable operation of assets valued at $100 million.
Recognized for its bold 10-Year Strategy as a knowledge-based organization with an outstanding culture, Catherine has grown Technical Safety BC by 100% to become a $69 million organization with 450 employees. Catherine finds inspiration in building a modern, diverse people practice, and is deeply committed to supporting the next generation of leaders.