Robert Gallagher
Director, BC Hydro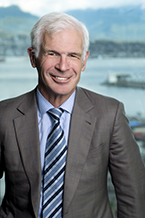 Appointed January 15, 2018
Re-appointed February 10, 2020

Robert is a mining industry professional with over 40 years of domestic and international experience, with expertise in project and strategy development and operations management. Previously, he served as the Executive Director and Chairman of the Mining Association of B.C.; President and CEO of New Gold and Peak Gold, and was Vice-President of Asia Pacific for Newmont Mining. His industry experience involved managing large construction and mining projects during times of social and economic change.
He currently holds director roles with Capstone Mining Corp, Southern Arc Minerals and Japan Gold Corp. He has held other director positions with international mining and gold councils, as well as the B.C. Heart and Stroke Foundation.
Robert has a Bachelor of Applied Science from UBC.