Alouette Lake (ALU)
About Alouette Lake Reservoir and Alouette Dam
The reservoir at Alouette Lake was created in 1926 when the Alouette Dam was built. The dam was replaced in 1984 and the spillway, a structure that provides the safe release of water from a dam to a downstream area, was rebuilt in 1993. Alouette Lake Reservoir can discharge to either Stave Lake Reservoir, via a diversion tunnel and the Alouette Generating Station, or to Alouette River over a spillway and/or with a low level outlet.
The Alouette watershed has moderate flows in the spring, resulting from snow melt. Lower flows during the drier summer months are typically seen, followed by periods of frequent high inflows from late October through March due to seasonal storms. Heavy and prolonged rainfall can produce sharp increases of inflow any time of year.
Learn about spill notices and flood alerts
Normal operating range of reservoir:
Between 112.60 metres and 125.51 metres
The normal upper operating range of the reservoir can be exceeded during periods of high inflow.
Seasonal targets for recreation and fisheries interests:
April 15 to June 14 - at or above 121.85 metres
June 15 to July 15 - at or above 122.00 metres
July 16 to September 5 - at or above 122.50 metres
September 6 to 15 - at or above 121.25 metres
Deviation from the targets may be required during periods of unusually low or high inflows to support fisheries downstream of Ruskin or to accommodate project maintenance.
Associated generating stations: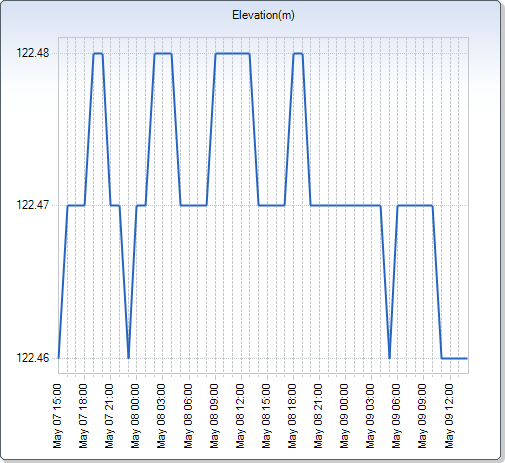 Data are based on automated readings which are from time to time inaccurate.
Info & Alerts explained
As required, BC Hydro will notify local government agencies and stakeholders about unusual water routing events by issuing a "spill notice" or a "flood alert". You can also get updates via the water level information line at 604 462 5409.
What's a spill notice?
A spill notice is issued as a precaution when flows are expected to change from normal seasonal conditions. Water is released in a controlled manner from the reservoir through the dam's spillway or other outlets to reduce the rate of rise in the reservoir.
What's a flood alert?
A flood alert is issued when water is released through the dam's spillway at a rate that may overtop the river banks and impact property and life safety. Some flooding of residential areas downstream of the dam is anticipated.