Community events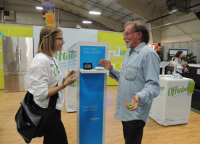 Watch for our team at a community event
BC Hydro's community team is spreading the message of energy conservation in communities across the province. Watch for us at events in your community, and share with us what you are doing to save electricity at home.
We're in your community

BC Hydro is proud to help power our communities. We travel to events around the province to illustrate just how simple it is to save energy and money at home. Look for us at an event near you.
Retail events
We partner with a variety of retailers to host in-store events. Come speak to us to learn about the latest in energy-efficient products and the current discounts available in-store.
Residential events
Are you trying to make your home more energy-efficient? Look for us at home shows to learn about the energy-saving opportunities and rebates available to you today. We're happy to help you save electricity and lower your next bill.
If you'd like us to attend your event, we'd love to hear from you. Just send us an email to let us know.