Mark Poweska
Executive Vice-President, Operations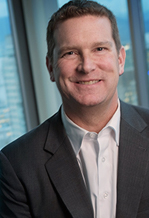 Mark Poweska was appointed BC Hydro's Executive Vice-President, Operations in October 2017. Mark has been with BC Hydro for over 25 years, half of which was spent in the field managing generating stations around the province. He most recently served as Senior Vice-President of Training, Development & Generation.
Mark has a wealth of experience in project delivery, construction, procurement and operations, engineering and design honed throughout his career at BC Hydro. Today, Mark leads BC Hydro's front line operations team, responsible for the operation and maintenance of the systems and assets needed to generate and deliver electricity safely and reliably to customers throughout British Columbia. In total, Mark is accountable for approximately 2,600 employees, $300M in annual operating and maintenance expenditures, and the delivery of $500M in capital per year. He also works with the other executives to govern and deliver a total of $1.6B of capital per year.
Mark is a Professional Engineer with Engineers & Geoscientists B.C. He is a Board Member of the Western Energy Institute and serves as Chair of the Operations Committee. Mark is also a Board Advisor for Yukon Energy.