Kirsten Peck
Kirsten Peck, Senior Vice-President, Safety & Chief Compliance Officer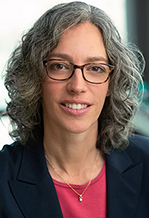 Kirsten Peck is BC Hydro's Senior Vice-President, Safety & Chief Compliance Officer. Kirsten first started with BC Hydro in an engineering capacity in 1993, and most recently held the position of Vice President, Engineering, accountable for the delivery and oversight of the engineering services associated with over 350 complex refurbishment and growth-related capital projects on BC Hydro's electrical system.
Her portfolio includes safety systems and assurance, field safety services, learning and development, security and emergency management, and compliance. These teams work together to design the safety systems, training and processes that keep our workers safe on and off the job, as well as the regulatory and safety compliance programs that ensure we all do our part to protect our people as well as our physical and cyber assets.
Kirsten has spent most of her career at BC Hydro and held positions leading the Risk Management division of BC Hydro's trading subsidiary and the Generation Asset Management department.
Kirsten serves on the Canadian Executive of the International Council on Large Electric Systems (CIGRE) and historically was a board member of the Committee of Chief Risk Officers (CCRO). Outside of work, Kirsten coaches Division 3 adult women's soccer, sits on the board of the Fraser Valley Dirt Riders Association, and provides weekend respite care for a delightful foster child.