David Wong
Executive Vice-President, Finance, Technology, Supply Chain & Chief Financial Officer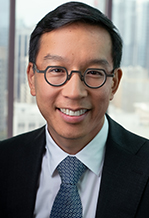 David Wong is BC Hydro's Executive Vice-President, Finance, Technology, Supply Chain & Chief Financial Officer. Between 1995 and 2008, David held a number of roles at BC Hydro, including Chief Financial Officer at Powerex and Chief Accounting Officer at BC Hydro.
As Chief Financial Officer, David is responsible for the financial oversight of BC Hydro. This includes financial reporting and policy, treasury, budgeting, forecasting, and internal audit. He's also accountable for our Technology and Supply Chain groups that provide IT services and solutions, company-wide procurement, materials management and fleet services. These groups are valued business partners and provide critical support to the business.
Before returning to BC Hydro in 2018, David held senior financial roles at Teekay Corporation, including CFO of Teekay Offshore Partners Ltd. He's also served on the Board of Directors at Vancity Credit Union where he was the chair of the audit committee.
David holds a Bachelor of Business Administration from SFU and is a Chartered Professional Accountant. David is also on the Board of Directors at BCAA.