Ken Peterson
Chair of the Board, BC Hydro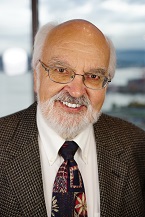 Appointed July 19, 2017
Ken's 40-year career spans a wide range of assignments in the electricity industry. He first started working with BC Hydro in 1977, during this time with the company he helped design BC Hydro's initial Power Smart program which was the first major demand-side management program in Canada. The last 10 years of his professional career were spent as CEO of Powerex, the marketing and trading subsidiary of BC Hydro.
Ken has served as a trustee of the North American Electric Reliability Corporation between 2006 and 2017, where he applied his industry experience to the physical and cyber-security reliability challenges facing utilities.
Ken has a Bachelor of Arts degree in economics from the University of British Columbia and a Master of Arts degree in economics from Northwestern University.