Chris Sanderson, Q.C.
Director, BC Hydro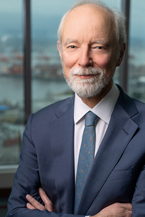 Appointed January 24, 2018

Chris's primary area of expertise was in public utility law. In early 2019 Chris retired from Lawson Lundell LLP after more than 40 years of service where his work focused on government relations and regulation in the energy and resource sectors throughout western Canada. In his profession he advised utilities, independent power producers, marketers, mine and energy project developers, Crown corporations, tribunals and governments. He appeared frequently before energy and environmental regulatory boards and all levels of Courts in B.C., Alberta and the Northwest Territories. He was ranked nationally in numerous publications for many years and was awarded the Premier's Collaboration Award in the Northwest Territories for his work on the Mackenzie Gas Project.
Previous board roles include the Chair of Family Services of Greater Vancouver and of the Society for the Education of Children with Specific Learning Disabilities. He was also a member of the Canadian Judicial Appointment Advisory Committee and has represented the BC Civil Liberties Association at all levels of the BC Courts and the Supreme Court of Canada on a pro bono basis.
Chris continues to provide strategic advice to select clients in connection with natural resource issues from his home office on Salt Spring Island.
Chris has a Bachelor of Arts (economics) and an LL.B. from the University of British Columbia.