Amanda Hobson, FCPA, FCA, C.Dir.
Director, BC Hydro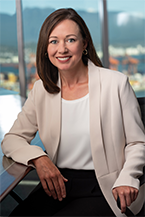 Appointed May 06, 2022
A senior financial executive, Amanda is passionate about leadership and organizational excellence. She is a Chartered Professional Accountant, Chartered Accountant and Chartered Director. Strategic and results oriented, with a diverse background in both public and private sectors, she brings more than 20 years' experience with large international publicly traded and private companies in the areas of finance, investor relations, strategy, governance and risk management.
Amanda's been recognized as one of BC's Most Influential Women in Finance (2019), Canada's Most Powerful Women, Top 100 (2018), and a BC CFO of the Year, Emerging Leader (2017).
Amanda holds a Bachelor of Commerce Degree from the University of Victoria.