New transmission line energized, powering economic growth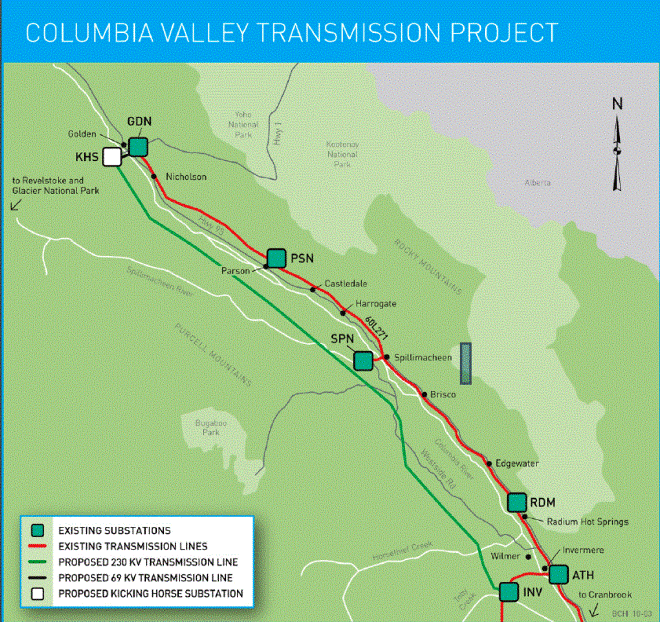 After two years of construction, Columbia Valley Transmission line operational

GOLDEN – A new 112-kilometre transmission line is providing reliable electrical service to communities from Invermere to Field in the upper Columbia Valley this winter.

The Columbia Valley Transmission line was energized in the fall after a two-year construction period. The project cost $114 million and created 150 construction jobs and business opportunities for local contractors, suppliers and First Nations.

The project included:
construction of a 230-kilovolt transmission line connecting the existing Invermere Substation to the new Kicking Horse Substation on the west side of the Columbia River near Golden;
construction of a 69-kilovolt transmission line connecting the new Kicking Horse Substation with the existing Golden Substation; and
expansion of the existing Invermere and Golden substations and modifications to Cranbrook substation.
Quotes

Rich Coleman, Minister of Energy, Mines and Natural Gas:
The Columbia Valley Transmission line will supply reliable power to homes and businesses in the upper Columbia Valley. The new line has already created 150 new jobs during construction and will attract new investment in the region."

Bill Bennett, Kootenay East MLA:
"This investment has not only benefitted our region economically, but our residents can now confidently depend on a reliable, clean energy grid service."

Greg Reimer, Executive Vice President, Transmission and Distribution, BC Hydro:
"The Columbia Valley Transmission project is a significant engineering feat that has been four years in the making. It entailed designing and building a route that safely crosses through one of B.C.'s most mountainous regions, avoiding avalanche areas, while minimizing the footprint on sensitive wildlife habitat."

Christina Benty, Mayor, Town of Golden:
"Already, the Town of Golden has experienced the project's economic benefits, especially the construction-related jobs. Thanks to this major transmission upgrade, Columbia Valley communities will now enjoy more reliable power, and in the future, this project will allow new businesses and industries to connect to a clean energy grid."

Facts
The project entailed building close to 500 wooden transmission structures – each up to 25 metres tall and weighing up to 5,800 kilograms – in one of British Columbia's most rugged areas.
Work crews strung more than 100 kilometres of aluminum and steel-reinforced aluminum conductor that will be able to withstand ice accumulation in an area known for extreme weather.
Helicopters were used to install the H-frame structures and to string the electrical wires.
The project budget was $154 million. The final cost was $40 million under budget at $114 million.
The project received approval form the British Columbia Utilities Commission in September 2010.
For more information on the Columbia Valley Transmission project please visit www.bchydro.com/cvt.
About BC Hydro

BC Hydro has been providing clean, reliable power to British Columbians for more than 50 years while maintaining among the lowest rates in North America. BC Hydro is a provincial Crown corporation that serves 1.9 million customers and invests in the electrical system and in energy conservation to deliver a safe and reliable supply of electricity for today's customers and for generations to come.



For more information, contact:
BC Hydro Media Relations
p. 604.928.6468
w. bchydro.com/media