Director, BC Hydro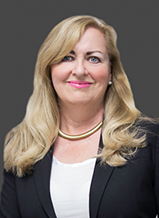 Appointed September 30, 2015
Re-appointed December 31, 2016

Since 2007, Lambert has been Executive Director of Big Brothers of Greater Vancouver and Big Brothers of Greater Vancouver Foundation, and the Renew Crew Foundation. She served as BC Hydro's treasurer from 1998 to 2004.
Lambert brings a wealth of experience to BC Hydro, including time as an energy analyst with the World Bank in Washington, D.C. (1996-1998), as vice-president and treasurer of B.C. Gas Inc. (1988-1996), and as manager of finance and senior auditor with MacMillan Bloedel Ltd. (1981-1988).
Lambert's director and officer experience includes governor of Crofton House School (2009-2013), director and past chair (and a founding member of) B.C. Women's Hospital Foundation (1989-2002), director of the Forum for Women Entrepreneurs (2002-2008), director of Encor International (2002-2004), member of the BCIT International Advisory Board (1998-1999), and director of BC Transit (1992-1996).
Lambert's term at BC Hydro expires December 31, 2019.