Corporate Responsibility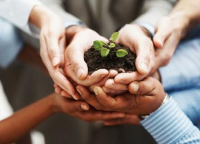 We'll continue to be a good neighbour
We provide electricity in environmentally and socially responsible ways. We're a good neighbour that has made excellent customer service a priority.

BC Hydro Social Responsibility Policy [PDF, 166 KB]
BC Hydro employee giving
In BC Hydro's first United Way Campaign, BC Hydro exceeded our employee participation goal and raised more than $560,000. BC Hydro was awarded the 2012 United Way Community Spirit Award for New Campaign of the Year.
BC Hydro supports United Way branches throughout British Columbia in the communities we serve. Each community branch is able to focus their attention on the specific needs of their community and channel funding to local non-profit organizations in need of support.
BC Hydro's other community initiatives
BC Hydro supports a variety of community initiatives, groups and programs throughout the province, including:
Community commitment
BC Hydro believes that courtesy counts and expects that our employees and contractors will:
Endeavour to build relationships with property owners in neighbourhoods where BC Hydro is working
Introduce themselves to property owners and review work that will be undertaken
Be courteous and polite
Be an engaged listener and try to understand the property owner's concerns before responding
Provide contact information
Building respectful, long-term relationships with our neighbours is our key focus. Through our good neighbour program, we commit to:
Make safety a priority as we work in your community
Undertake all of our work with best practices for the electricity industry
Proactively inform you of our proposed plans and discuss with you on their effects
Understand and listen to your concerns, and where possible, work with you to find appropriate solutions when undertaking work on your property
Do what we say we are going to do and give you reasons if we are unable to do so
Minimize disruptions as much as possible
Regard all complaints as serious and respond to them in a timely manner
Provide you with a dedicated phone line to talk to a member of our team if you have any concerns
For more information please review our Good Neighbour Commitment Booklet [PDF, 488 KB] or contact BC Hydro Stakeholder Relations Department at 1 866 647 3334 or send us an email at stakeholderengagement@bchydro.com.
See our full BC Hydro Social Responsibility Policy [PDF, 166 KB]
Our code provides general guidance on standards of conduct, including guidelines on conflict of interest.
The Standards of Conduct are the terms under which we administer the Open Access Transmission Tariff.
The Reliability Coordinator Standards of Conduct are the terms under which BC Hydro performs the function of Reliability Coordinator.