Janet Fraser
Executive Vice-President, People, Customer, 
Corporate Affairs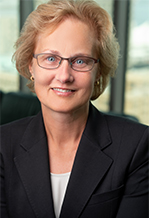 Janet Fraser is BC Hydro's Executive Vice President, People, Customer, Corporate Affairs. She first joined the Executive Team as the Senior Vice President, Energy, Regulatory & Business Planning in 2015 and has since added Communications, Human Resources and Customer Service functions to her portfolio. She also previously served as the company's Chief Regulatory Officer.
Janet leads the team responsible for power acquisitions and contract management, conservation and energy management, regulatory affairs, policy, communications, human resources and customer service. Janet is passionate about supporting and developing people, and finding innovative solutions to meet customers' needs.
Janet has served as a member of the United Way of the Lower Mainland's Campaign Cabinet since 2017 and is the executive sponsor of BC Hydro's United Way employee giving campaign.
Prior to joining BC Hydro, Janet spent seven years with the British Columbia Transmission Corporation in a number of senior leadership roles. In addition, she held a variety of roles in the resource sector at Westcoast Energy and Fletcher Challenge.
Born and raised in British Columbia, Janet is a Chartered Professional Accountant (CPA) by profession.