Power Smart New Home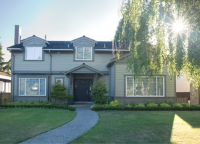 OUTSTANDING NEW HOMES
The Power Smart New Home Program, in partnership with FortisBC, recognizes homes built with a higher standard of energy efficiency by offering financial incentives to builders, developers and owner-builders to help offset incremental building costs.
Important program changes:

Effective January 1, 2015

The Power Smart New Home Program is excited to introduce ENERGY STAR® for new homes as the program standard effective January 1, 2015. ENERGY STAR qualified new homes are approximately 20 per cent more energy-efficient than a home built to Code. Learn more about ENERGY STAR homes.
As we strive to increase the standard for energy-efficient new homes in B.C., the existing incentive offers are no longer available. New incentive offers and application requirements will be available in April, 2015.
Important application information for electrically-heated homes
The information below is for electrically-heated homes in the BC Hydro service area. For information on incentives for natural gas heated homes, please check with FortisBC.
ENERGY STAR Package: no longer available.
Incentive Application: will be evaluated based on the Building Permit Date of the project.
Building permit dates before July 1, 2014 are no longer eligible.
Building permit dates between July 1 and December 31, 2014:

a signed Memorandum of Understanding (MOU) must be submitted by December 31, 2014
Completed application must be submitted by March 31, 2015.
Building permit dates after January 1, 2015:
more detailed incentive and application requirements will be available soon. Meanwhile, if you are starting to plan or build your project, please contact the program's representatives:
2014 Incentives
2014 Application forms
Please note the application forms are only for applying for the 2014 incentives.
Download the New Home Application Checklist

[PDF, 94 KB]

. The checklist guides you through the application process and documents you will need to provide.
Download and complete an application form. Use the single home application form

[PDF, 157 KB] f

or a one dwelling development or use the bulk application form

[XLS, 626 KB]

for a multi-unit development.
Power Smart New Home Program
PO Box 9080
STN Main
Surrey, BC V3T 0J6