Power Pioneers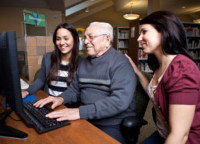 Supporting the community
The BC Hydro Power Pioneers Association is more than just an organization of 5,100 retired BC Hydro employees. We support the communities and residents of British Columbia. The Power Pioneers work together in an active, caring and fun way to accomplish wonderful things.
Connecting people, supporting communities
We judge Power Smart awards at school science fairs. We hand out 18 "Beginning a Lifetime of Community Service Youth Awards" throughout the province. We provide caring attention to fellow retirees in need.
Our members have helped boost the BC Children's Hospital by raising more than $400,000 through our Miracle Million Campaign.
And we've worked to preserve the legacy of British Columbia by producing beautiful books like Gaslights to Gigawatts and Station Normal: The Power of the Stave River. These books relate the life and times of B.C. and its people through the stories of the people who knew it best.
Through our volunteer activities and our fundraising initiatives, we are a link between BC Hydro's past and its future.
Learn more about the BC Hydro Power Pioneers.
Upper island bikers have big hearts
Dateline: May 23, 2008
Every year the Upper Island Power Pioneers go on a Big Bike Ride in support of the Heart and Stroke Foundation.
Last year, a record number of riders turned up to help pedal the Big Bike. We even had a cheering section, whooping and hollering and urging us to, "Pedal faster!"
The Power Pioneers, the Nanaimo District Office and Power Smart team members all contributed to raising a total of $2,800 for the Heart and Stroke Foundation, a record amount.
Literacy program
We do not take reading for granted and we started our literacy program because a number of school libraries needed books for their children. Communities with a high poverty level and high percentage of ESL students are particularly in need.
The literacy program was started in 2005. That year we distributed about 500 books to two schools. Our goal is to donate 5,000 children's books by 2010.