About the FWCP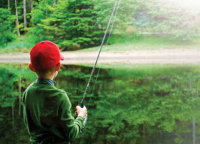 More than $110 million invested, and counting
The FWCP is a partnership between BC Hydro, the Province of B.C., Fisheries and Oceans Canada, First Nations and local communities and groups. More than $110 million has been invested in more than 1,500 projects since 1988.
Mission
The Fish and Wildlife Compensation Program compensates for the impacts to fish, wildlife and their supporting habitats affected by BC Hydro owned and operated generation facilities.
Vision

To ensure that fish and wildlife populations thrive in watersheds that are functioning and sustainable.
Principles
Approach: Using an ecosystem-based approach, the program defines desired outcomes and takes actions to restore, enhance and conserve priority species and their habitats.
Decision making: The program works efficiently with its partners to make informed and consensus-built decisions that enable the delivery of effective, meaningful and measurable projects that are supported by the impacted communities.
Geographic scope: Within the watersheds, basins and ranges of the populations of species affected by generation facilities owned and operated by BC Hydro.
Objectives: The program defines and delivers on compensation objectives that reflect the partnership's collective goals and align with provincial and federal fish and wildlife conservation and management objectives in the areas where we work.
Delivery: The program strives to be a high performing organization with skilled and motivated staff and partners delivering efficient, effective and accountable projects.
Strategic Objectives

Conservation
Maintain or improve the status of species or ecosystems of concern.
Maintain or improve the integrity and productivity of ecosystems and habitats.
Sustainable Use
Maintain or improve opportunities for sustainable use, including harvesting and other uses. Harvesting includes First Nations, recreational, sport and commercial harvests. Other uses may include cultural, medicinal, or non-consumptive uses.
Community Engagement
Build and maintain relationships with stakeholders and aboriginal communities. This objective stems from BC Hydro's social responsibility policy and the Province of B.C. shared stewardship objective.
The Fish and Wildlife Compensation Program is a partnership of: