Mica Units 5 & 6 Projects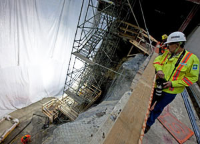 Time to install two units
We're installing two generating units at Mica Generating Station to ensure B.C. continues to have electricity to meet peak demand. Mica was Designed as a six-unit facility, but installation of Units 5 and 6 had been deferred.
Overview and updates
BC Hydro is working to install two additional approximately 500 MW generating units into existing turbine bays at Mica Generating Station.
The Mica Unit 5 project will also require construction of a new series capacitor station near the midpoint of the existing Mica to Nicola 500 kV transmission line needed to reliably deliver the additional electrical generation at Mica.
The target in-service dates for Mica Unit 5 is October 2014 and the target in-service date for Mica Unit 6 is October 2015.
Project updates