Fish & Wildlife Compensation Program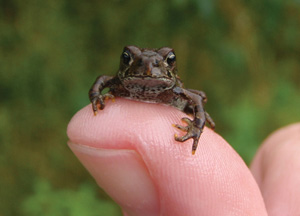 Support for 124 Conservation Projects
The FWCP will support 124 conservation projects across the province for a total investment of $8.9 million in 2015-16.
Toadfest 2015
Come and learn more about Western Toads at Toadfest 2015. This free one-day event will be held at Summit Lake Provincial Park, located south of Nakusp:
Wednesday, August 12 from 4 p.m. to 7 p.m
The hot summer weather has led some toads to start migrating earlier than expected. But there's still plenty to do at Toadfest. Learn all about Western Toads, and get up close to the aquatic insects, amphibians, and reptiles on display. There will be kids' activities, and information on invasive plants, bears and other local wildlife.
Parking is limited. Please carpool. For more information, call 250 352 1300 or email fwcp@bchydro.com.
Fish and wildlife funding opportunities in 2015
Funding applications for the 2015 intake will be available no later than October 1, 2015. The deadlines to apply for funding will be in November 2015. Application deadlines vary by region and will be posted here, along with any additional funding information details by August 15, 2015.
Community groups in the Peace region may be eligible for community donation funds [PDF, 112 KB].
Peace Region grants: Notice of Intent is due October 9, 2015
Grant applications for fish and wildlife projects in the FWCP's Peace Region are due November 20, 2015. All interested grant seekers, must submit a mandatory Notice of Intent by October 9, 2015.
Read our FWCP-Peace Region Action plans and download your Notice of Intent form [PDF, 325 KB]. Contact Program Manager, Dan Bouillon, to talk about your project and learn more about our grants dan.bouillon@bchydro.com or 250 783 7509.
2015-16 Fish and Wildlife Projects
More than 150 grant applications for 2015-16 fish and wildlife projects were received by the FWCP. Each application was reviewed by the local fish and wildlife technical committees, and then by the regional Boards. In the FWCP's Peace Region, the First Nations Working Group also reviewed and evaluated all grant applications.
Across the Province in 2015-16 FWCP Boards approved 124 fish and wildlife conservation projects with a total investment of $8.9 million.
2015-16 projects include grants where the projects will be delivered by a range of partners including First Nations, stewardship groups and others; projects directed by the local Boards that will be delivered through a call for proposals; and core projects in the FWCP's Columbia Region to be delivered through the FWCP's long-term agreement with the Province's Ministry of Forest, Lands and Natural Resource Operations.
Learn more about the fish and wildlife projects funded in the FWCP's Coastal, Columbia and Peace regions.

Project report database
FWCP project reports are available online in the Ministry of Environment's data warehouse. Please see reports for more information.

The Fish and Wildlife Compensation Program is a partnership between BC Hydro, the Province, Fisheries and Oceans Canada, First Nations and public stakeholders to conserve and enhance fish and wildlife impacted by the construction of BC Hydro dams.