Fish & Wildlife Compensation Program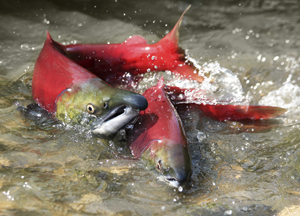 FWCP Supports 124 Conservation Projects
The FWCP will support 124 fish and wildlife conservation projects across the province for a total investment of $8.9 million in 2015-16. Read our regional project summaries.
2015-16 Fish and Wildlife Projects
More than 150 grant applications for 2015-16 fish and wildlife projects were received by the FWCP. Each application was reviewed by the local fish and wildlife technical committees, and then by the regional Boards. In the FWCP's Peace Region, the First Nations Working Group also reviewed and evaluated all grant applications.
Across the Province in 2015-16 FWCP Boards approved 124 fish and wildlife conservation projects with a total investment of $8.9 million.
2015-16 projects include grants where the projects will be delivered by a range of partners including First Nations, stewardship groups and others; projects directed by the local Boards that will be delivered through a call for proposals; and core projects in the FWCP's Columbia Region to be delivered through the FWCP's long-term agreement with the Province's Ministry of Forest, Lands and Natural Resource Operations.
Learn more about the fish and wildlife projects funded in the FWCP's Coastal, Columbia and Peace regions.

You're invited: Talk with the Board
Meet members of the FWCP's Columbia Board and Program Manager. Learn about our work across the Columbia Region, including the West Kootenay.
Where: Kaslo Hotel – 430 Front Street, Kaslo B.C.
When: May 6, 2015 from 5:00 p.m. to 6:00 p.m.


Release a Juvenile Sturgeon in May 2015
Planning is underway for the annual release of endangered sturgeon in the Columbia region. Event dates are below. Check back for more details.

Trail: Tuesday, May 5 at Gyro Park from 3:30 p.m. to 5:30 p.m.

Creston: Wednesday, May 6 at the Old Ferry Landing from 2:00 p.m. to 4:00 p.m.

Revelstoke: Thursday, May 7 at the Shelter Bay Provincial Park from 11:30 a.m. to 1:30 p.m.

You're invited: Turtle Day 2015
Come to Elizabeth Lake near Cranbrook and learn about Western Painted Turtles on Tuesday, May 12, 2015 from 3:00 p.m. to 5:00 p.m.
Talk to biologists, discover how this amazing creature has evolved, survives the winter, and get up close and personal with some Western Painted Turtle hatchlings.
This free event is hosted by the FWCP, Rocky Mountain Naturalists and the Ministry of Forests, Lands and Natural Resource Operations. For more information call 250 352 1300 or email fwcp@bchydro.com.

Fish and wildlife funding opportunities in 2015
Funding applications for the 2015 intake will be available no later than September 1, 2015. The deadlines to apply for funding will be in November 2015. Application deadlines vary by region and will be posted here, along with any additional funding information details as soon as possible in 2015.
Community groups in the Peace region may be eligible for community donation funds [PDF, 112 KB].

Project report database
FWCP project reports are available online in the Ministry of Environment's data warehouse. Please see reports for more information.

The Fish and Wildlife Compensation Program is a partnership between BC Hydro, the Province, Fisheries and Oceans Canada, First Nations and public stakeholders to conserve and enhance fish and wildlife impacted by the construction of BC Hydro dams.