Fish & Wildlife Compensation Program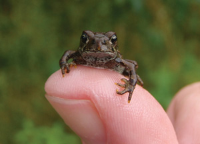 What's happening
Applications submissions for 2013 funding is now closed in the Coastal, Columbia and Peace Regions.
Columbia Region – New Draft Basin and Action Plans now available to assist proponents in their project proposals.
A partnership of:
What the FWCP does, and why
The Fish and Wildlife Compensation Program (FWCP) has delivered more than 1,500 projects that conserve and enhance fish, wildlife and their supporting habitats affected by the creation of BC Hydro owned and operated generation facilities in the Coastal, Columbia and Peace regions of British Columbia. More than $100 million has been invested in projects since 1988.
The FWCP is delivered through a joint partnership that includes BC Hydro, the Province of B.C. and Fisheries and Oceans Canada. They collaborate and work with First Nations and local government, community and environmental groups to ensure the success of all FWCP projects.
Vision: Thriving fish and wildlife populations in watersheds that are functioning and sustainable.