Fish & Wildlife Compensation Program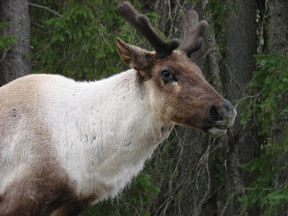 Funding for 80 fish and wildlife projects
The Fish and Wildlife Compensation Program announced more than $7 million in 2014 for fish and wildlife across the province.

Join us: New Board member wanted for Coastal Region
The FWCP-Coastal is looking for a new public representative to join its nine-member Board. Applications must be received by April 30, 2015. Learn more.
Let's talk about Caribou on March 27
Join Provincial wildlife ecologist Dr. Dale Seip for a free discussion on declining caribou populations in B.C. and the challenges of recovery. This session is funded by the FWCP in collaboration with UNBC and will be held at the Prince George campus, Weldwood Theatre on Friday, March 27 from 3:30 p.m. to 4:30 p.m. Join us online if you can't make it in person. Learn more.
Release a Juvenile Sturgeon in May 2015
Planning is underway for the annual release of endangered sturgeon in the Columbia region. Event dates are below. Check back for more details.

Castlegar/Trail: Tuesday, May 5. Location TBD

Creston: Wednesday, May 6 at the Old Ferry Landing
Revelstoke: Thursday, May 7 at the Shelter Bay Provincial Park
New manager announced for Columbia region
The FWCP-Columbia Board is pleased to announce, that effective February 23, 2015, Crystal Klym is the new manager for the FWCP's Columbia Region. Crystal is a professional agrologist with over 10 years' experience in conservation, sustainable natural resource management, and environmental stewardship. She has extensive experience in ecosystem restoration, habitat assessments, and invasive species management, as well as building and fostering collaborative partnerships to address complex land management issues.
For any questions related to the FWCP's work in the Columbia region, please contact Crystal.
Update: Fish and wildlife funding applications

The 2014 intake of funding applications for fish and wildlife projects is now closed. Thanks to everyone who submitted a funding proposal. Each application will now go through a three-stage review [PDF, 671 KB] that will conclude when the Boards in each region make their final funding decisions. All funding applicants will be notified as soon as possible (no later than March 2015). If your funding application is approved, please be prepared for the next steps [PDF, 671 KB].
Fish and wildlife funding opportunities in 2015
Funding applications for the 2015 intake will be available no later than September 1, 2015. The deadlines to apply for funding will be in November 2015. Application deadlines vary by region and will be posted here, along with any additional funding information details as soon as possible in 2015.
Community groups in the Peace region may be eligible for community donation funds [PDF, 112 KB].
Project report database
FWCP project reports are available online in the Ministry of Environment's data warehouse. Please see reports for more information.

The Fish and Wildlife Compensation Program is a partnership between BC Hydro, the Province, Fisheries and Oceans Canada, First Nations and public stakeholders to conserve and enhance fish and wildlife impacted by the construction of BC Hydro dams.