New Construction Program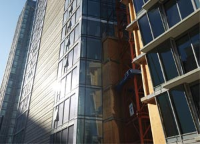 Incentives and resources
Being a leader in Energy Management comes with financial incentives, resources and technical assistance to building owners, developers and the design industry to create high-performance, energy-efficient buildings.
Resources
Note: Effective May 1, 2015 all Whole Building Design project applications must comply with the updated program/modelling requirements referenced below.
Building Envelope Thermal Bridging Guide
This guide explores how the building industry in British Columbia can meet the challenges of reducing energy use in buildings, in part by effectively accounting for the impact of thermal bridging.
Most practitioners will find PART1 and Appendices A and B to be most useful. PART 1 outlines how to effectively account for thermal bridging. Appendices A and B provide a catalog of common building envelope assemblies and interface details, and their associated thermal performance data.
Researchers and regulators will be interested in PART 2 and PART 3, and Appendices C to E. They contain the cost-benefit analysis, and discussion on significance and further insights, of using this guide to mitigate thermal bridging in buildings.