#HolidayMovieMayhem: vote for your fave holiday flick
Home Alone takes the crown for top holiday movie
After more than 65,000 votes from British Columbians across Instagram, Twitter and here on bchydro.com, we've determined the top holiday movie of all holiday movies - Home Alone.
We can't say we're entirely surprised – Home Alone is a classic.
It was a tight race in the championship final featuring a very worthy opponent Elf. But Home Alone took the victory with 56% of the overall popular vote.
These two films knocked out their competition with ease, even when we thought the races would be tight. They conquered all the holiday classics, rom-coms, and family favourites. They even bested both the remake and the original Grinch.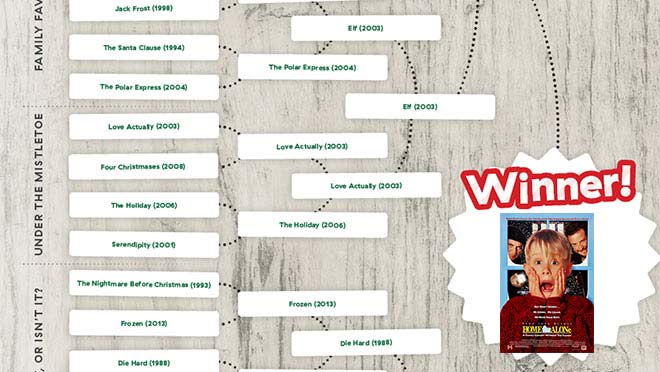 Follow along as we whittle down the 32 holiday movies to the ultimate seasonal selection.
How we picked the starting lineup
We know what you're thinking: how did we manage to narrow down the plethora of excellent holiday films to just 32? Particularly when it seems like each year various streaming services and cable channels release dozens of new contenders?
Well, we started by compiling a list of all the holiday movies we could think of. That resulted in a list of 55 movies that ranged from obvious classics to some questionable additions. We figured we couldn't narrow it down with just our team of three, so we surveyed 100 of our colleagues with an online survey. They were asked to vote on our list based on a strategic voting system of 0 to 5:
0= "haven't seen it" to 5= "absolutely must include"
They were also provided space to add in movies they think should be included that we missed in our initial list.
We received 60 responses to our survey and believe us when we say there was great debate in what is and what is not considered a holiday movie.
One of particular debate that ultimately didn't make the cut: The Sound of Music.
Despite popular opinion that "My Favourite Things" is a classic Christmas carol, some might argue that just because there are snowflakes on noses and eyelashes, and brown paper packages tied up with string, the song, just like the film, has nothing to do with Christmas.
...silver white winters don't generally melt into spring until well after the holiday season.
Then there was the debate of re-makes: do we include only the original? The most current version? The version that performed best at the box office? So many questions. You'll have to take a look at the bracket to find out where we landed on this one.
After compiling the survey results, we put together a team of six to help us finalize the top 32. Selections 1 through 25 were pretty obvious based on their high votes. It was the last seven where the race was tight. After much debate between tied scores and wildcards (because there always has to be a wildcard), we finalized the list.
32 choices, from cartoons to romantic comedies
With the top 32, we broke the bracket up into eight categories:
Classics
TV specials
Family faves
Remakes
80s / 90s flashbacks
Under the mistletoe
Is it, or isn't it?
Cartoon classics
From there, each individual bracket of four films was seeded based on the movie's score from a more scientific and reliable source: Rotten Tomatoes.
Low and behold, our Holiday Movie Mayhem bracket was complete.
Stay tuned for future rounds on Twitter, Instagram, and bchydro.com
You'll also be able to vote on Twitter and Instagram throughout the week. Stay tuned as we update the bracket after each round to see what makes the cut.
Taking on the task of watching all 32 movies?
It wouldn't be a list from BC Hydro without a little energy-saving advice thrown in. If you're planning on watching all 32, or just watching a few over the holidays, we've got some tips to help you use less electricity while getting into the holiday spirit:
Streaming? A game console can use up to 40% more energy than other streaming devices. Consider using a smart TV, laptop, or tablet.
Watch with friends or family and cut down the amount of TVs being used to watch the same movie. Plus, you get to spend some quality time with loved ones.
When you get that prompt asking if you're still watching after movie number four or five, turn the TV off before you nod off.