Second in trio of storms hammers B.C.'s south coast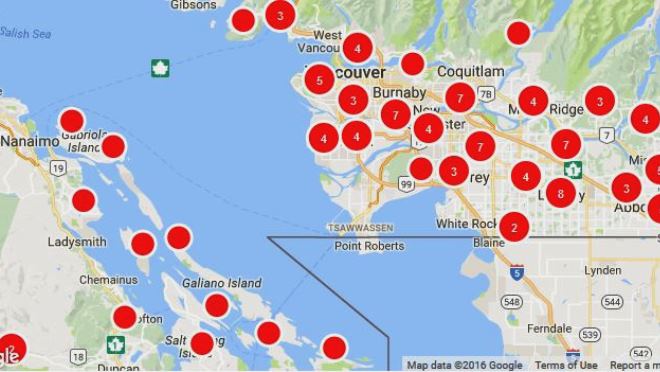 Use the slider feature in the overlapped photos above to see BC Hydro's power outages reporting map at 3 p.m. on Friday, October 14th (on the left) and at 8 a.m. on Saturday, October 15th (on the right). BC Hydro crews restored power to more than 95,000 customers over that period.
BC Hydro crews restore 95,000-plus customers in 17 hours
Heavy rain and high winds conspired Friday to leave about 100,000 BC Hydro customers in the Lower Mainland and on Vancouver Island without power at one point in the afternoon. About 400 BC Hydro power line technicians and contractors — along with vegetation management crews, flaggers, wire guards and damage assessors — worked to restore power to more than 95,000 customers by 8 a.m. Saturday.
Friday's storm left 191,000 homes and businesses without power at some point during the day.

And now the region is bracing for the third, and possibly strongest, of the series of three storms. Fuelled in part by the remnant of Super Typhoon Songda, which struck off Japan earlier in the week, the third storm has been riding along an "atmospheric expressway" in the Pacific Ocean and is about to hit our coast.
The storm is expected to pass through south Vancouver Island Saturday afternoon/evening, then continue through the Lower Mainland, bringing wind gusts of up to 100 km/h.
There's a chance the focus of the storm will veer south and hit Washington State hardest, but further damage to trees and power lines is expected on the south coast.
Be prepared for power outages this weekend and be aware of flying branches and falling trees during storms.

Remember Down. Danger. Dial. If you see a downed power line, it's dangerous. Stay at least 10 metres away from the power line and dial 911 to report the downed line.
Don't call 911 to report a power outage, however. You can report one online or call us at 1 800 BCHYDRO (1-800-224-9376) or *HYDRO (*49376) on your cell phone.