Bigger, better, stronger: new Fleetwood Substation coming to Surrey
More reliable 230kV electricity to power Surrey's rapid growth
"It's like comparing the Trans-Canada Highway to a smaller rural road," says senior engineer Derek Collins as he begins to explain why the new substation coming online in the Fleetwood area of Surrey will deliver more reliable power.
He says that when you're facing a winter drive in treacherous weather, it's far more likely that Highway 1 – and not that winding rural road – will be last to be closed and the first to be opened by crews. "When that storm hits, and if you have a choice, you'll always want to be on that highway vs. the rural road," says Collins.
And it's the same story with the transmission system, when comparing the smaller transmission assets (existing 60-kilovolt (kV) systems) with the larger (230 kV) transmission systems. "The 230 kV system is like your Trans-Canada Highway with four lanes – some lanes can usually remain open while a problem is quickly fixed. The 60 kV system is more like a single-lane road; less capacity, and no way to keep things moving if that lane gets shut down. In Surrey, these 60kV systems couldn't keep pace with the growth and soon we wouldn't be able to serve our customers with our existing assets. Our system was in need of something bigger and more strategic and building a new substation in Fleetwood became our solution," says Collins. The new Fleetwood substation will move many customers in B.C.'s second-largest city to a very reliable 230kV system.
Surrey experiencing extensive growth in electricity demand
It's no surprise to anyone who has visited Surrey in the past few years that the area is experiencing rapid growth. Demand for electricity in Surrey has increased by 28% over the past 10 years. Over the next decade, that demand is expected to increase by another 35%.
That's putting strain on the electrical system, particularly substations in the area. Several of the existing stations are small, and were designed to provide reliable power for far fewer customers. Simply put, the existing assets can't keep pace with the demand that's coming their way.
Previous Surrey infrastructure challenged by location, voltage
The Fleetwood area was served by a cluster of different substations located a fair distance away from many of the customers. These stations operated at different distribution voltages and were powered by a mix of 60 kV and 230kV transmission lines. Although we strive for high reliability across the system, the bottom line for Surrey and all its growth was the location and voltages of previous substations created long, heavily-loaded feeder lines and a constrained 60kV transmission system. When a storm hits and there are power outages across our system, a strong transmission supply can better withstand outages on neighbouring transmission assets (Surrey's 60kV was maxed out and was severely strained during an outage).
"Although BC Hydro may experience an outage in our system, often our customers won't," says Collins. "When something happens to our system due to a storm or equipment failure, the system is designed with redundancy, so our customers are either not affected or if they are, service is restored quickly." Typically our most critical assets are defined as those that serve the most customers. These critical assets are designed to be the most robust, and therefore the least affected during storms. Given Surrey's growth, we looked for higher reliability 230kV transmission systems to play a larger role if we were to maintain the quality of service that we and our customers expect.
Collins says this higher reliability for 230kV systems (compared to 60kV systems) is built into their design. A 230kV line will have more extensive requirements for clearing trees along its rights-of-way (the area around and under power lines) than for the areas around 60 kV lines. In addition, there are typically fewer possible causes for outages on the 230kV systems; they don't run along roads or train tracks the same way as 60kV lines do, where cars may hit them or other accidents can knock them out. In general, the risk of power outages from trees or branches or motor vehicle accidents is lower on 230 kV lines, and if there is an outage, they're often the first to be restored.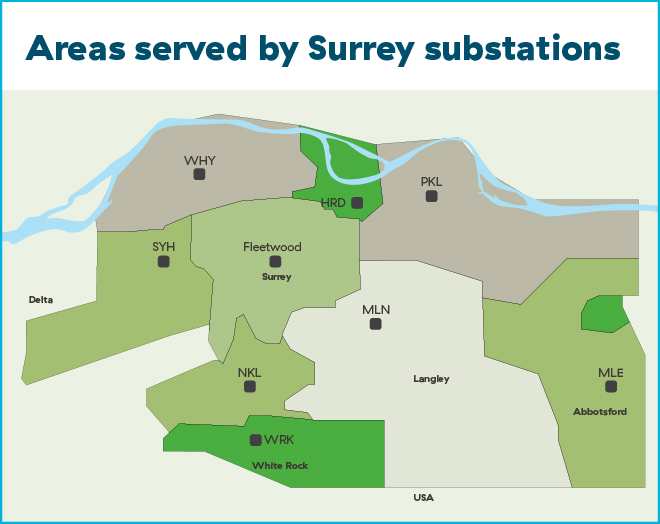 What happens with the new substation? Slide the arrows to the right in the image above to see how areas serviced by substations in the Surrey area will change when the major new substation at Fleetwood comes into service. Four aging, smaller substations will be decommissioned.

There's also the issue of where existing substations are located. Over the next few years, four smaller stations will be decommissioned as their existing load is either directly or indirectly transferred to Fleetwood. And that's good news for customers in those areas.
Right now, "feeder" lines from the stations can stretch over a long area. And as Collins explains, the longer the line, the higher the risk is for an outage.
The new substation is located in the heart of what was previously a void in the transmission and station infrastructure for Surrey. By building Fleetwood in this critical spot, the result is shorter feeder lines for both the existing stations and for the Fleetwood station. In theory, the reduction in risk for customer outages is generally proportional to the reduction in feeder length, says Collins.
Networked supply offers backup power when something goes wrong
In the event that something goes wrong on a power line (such as during a windstorm), the best-case scenario is a backup supply is available that can serve customers.
And that's what the new 230 kV system offers, according to Collins.
"Two 60-kilovolt lines are often used to supply a 60kV substation. Typically these lines will be located on a single pole structure or in close proximity to each other. So if something goes wrong with that structure or that area, it can take out both lines," he says. In addition, the 60kV fed substations are mostly supplied radially, meaning they get their power only from a single substation. If that source is lost, the 60kV station will also lose service.
That isn't the case with the 230 kV lines in Surrey. "The 230 kV lines that feed the new Fleetwood substation provide what's called a networked supply. We can seamlessly supply our customers from one source or another if we have a problem. Although we can never completely avoid an outage on our system, we can often avoid having this outage affect our end customers. BC Hydro will know we've had an outage, but our system will quietly maintain service to our customers; just as we designed it."