Layers of lighting overwhelm at one B.C. school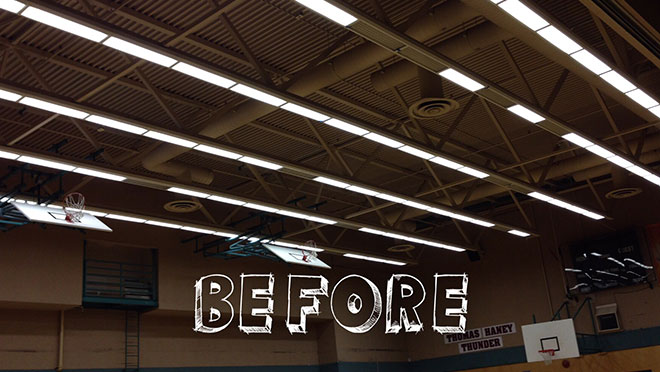 How many of us are using lights we don't really need?
Rarely do you hear of a school that's overly lit. A lot of schools suffer from a lack of light, or dim and fading light, which is a known disadvantage of T12 and T8 fluorescent lamps using magnetic ballasts.
But not Thomas Haney Secondary in Maple Ridge. Constructed in 1992, the school was "exceptionally over lit" says Alexandra Tudose, who championed an eight-month-long project to reduce the school's electricity consumption.
Tudose is the Maple Ridge-Pitt Meadows School District's manager of energy and environmental sustainability. Working with the local board of education, B.C.'s education ministry and two school district colleagues – Flavia Coughlan and Rick Delorme – she helped the district finished improvement projects at eight schools in two years, reducing electricity consumption by 2 million kilowatt hours.
That adds up to annual savings of $188,000.
In early 2014, as part its strategic facilities plan, the district set a goal of reducing electrical consumption by 30% from 2013 levels, by the year 2019. As part of the plan, the district engaged technical consultants to produce high-level energy assessments for all 34 school district facilities, including 20 elementary schools, six secondary schools and eight other buildings.
Thomas Haney Secondary was flagged immediately as an energy intensity outlier. The district's highest energy user, it consumed 26% of the total energy use of the six secondary schools.
"Thomas Haney just had too many lights," explains Tudose. "Overhead lighting, pendant lighting and task lighting were all combined in a single room or area. The cost to illuminate the school was much more than what it needed to be. We set out to change that."
The Thomas Haney upgrade was split into two parts: an HVAC upgrade, and lighting retrofit. Guided by ISO Standard 50001 (which is a proven framework for industrial facilities, commercial facilities, or entire organizations to manage energy), two thirds of the lights in the school were removed. That process, known as delamping and decommissioning, saved close to 490,000-kilowatt hours. The quality of light in the school remained unchanged, and in a few cases, it improved.
A total of 192 light fixtures were removed from the school's gymnasium alone; the remaining 48 fixtures were upgraded from 2-lamp T8s to 4-lamp T5 high-output luminaires – a savings of 15,600-kilowatt hours – or $1,500 a year. The HVAC upgrade produced even better results, with over 787,000 kilowatt hours saved.
"The whole process has made district students and staff more conscious," says Tudose. "Turning off a light switch actually saves money – it's a simple idea and important life lesson; one that we at school district 42 are happy to teach."