Through the residential area of Anmore, our existing right-of-way would be used. Although additional work is required, our preliminary design to date includes:
Installing an additional overhead 230kV transmission line within our existing right-of-way. This line will parallel existing lines in the right-of-way.
Replacing six existing wooden H-frame structures supporting one 230 kV transmission line with three taller steel monopoles supporting two 230 kV transmission lines. These monopoles will be similar to three existing monopoles in the right-of-way.
Adding grounding wire to the three existing monopoles, supporting two 230 kV transmission lines.
See the photo metric satellite map [PDF 6.4 MB] of the preferred route through Anmore.
The new towers will be steel monopoles similar to the steel ones that you currently see in the right-of-way. Below are some preliminary renderings showing current and potential future state from different viewpoints in Anmore (drag arrow in image to see the changes).
Spence way (looking east)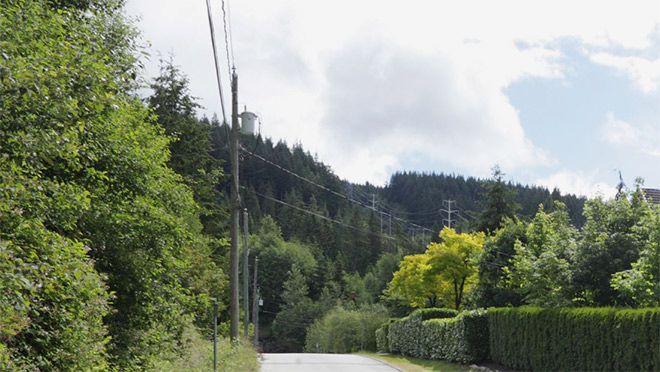 Spence Way (looking west)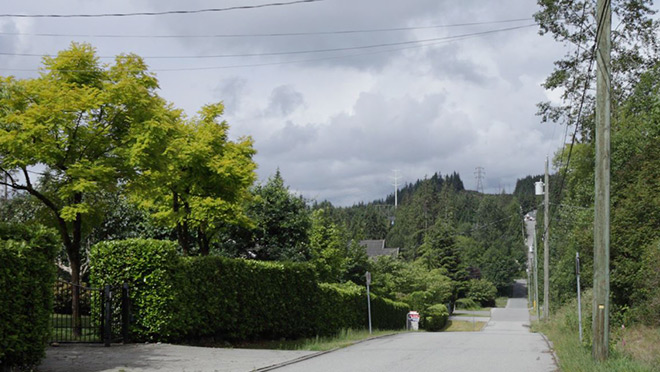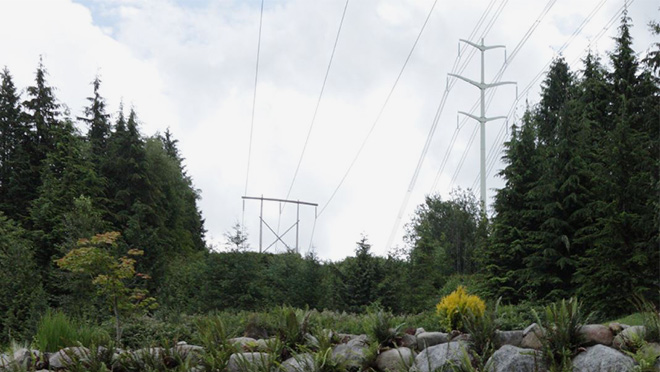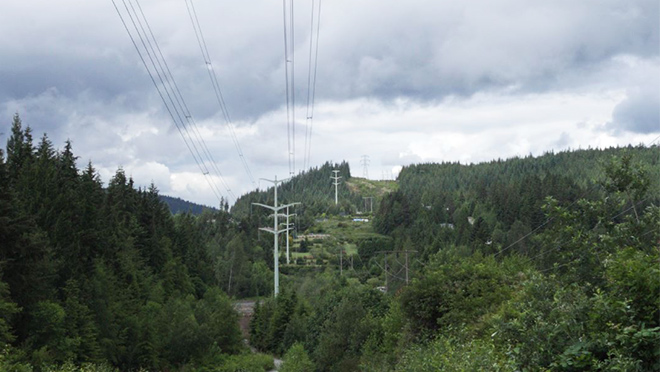 Frequently asked questions
Our right-of-way in Anmore doesn't include the rights to place the lines underground. However, we did investigate whether the option would be possible and what the costs would be. Here's what we learned:
It would be difficult to excavate a trench along the entire existing right-of-way, especially at the west end where the topography is very steep. Extensive blasting would be required for a new cable and casing.
The crossing of the creek at the west end of the right-of-way would require horizontal directional drilling where a pipe (to encase cables) would need to be bored underground using a drill rig.
Cable termination stations and manholes (12 metres long x 3 metres wide x 3 metres deep) would need to be installed within the right-of-way and potentially on private land.
For these reasons, it is technically challenging to build an underground cable within the existing right-of-way. So we looked at what would be involved to build underground in local streets. This is what we learned:
The cable length would need to be about 4 kilometres to replace 3 kilometres of overhead line.
We would need to build a large termination station just east of Leggett Drive to transition from an overhead line to an underground cable.
We would have to build another large termination station so that the cable can transition to an overhead line and travel along this right-of-way to cross Burrard Inlet.
Three existing overhead lines would remain in the right-of-way.
To build underground would cost approximately 3.5 to 4 times more than overhead. It would be difficult for us to justify the significant cost increase to underground the line when there is sufficient space in an existing right-of-way for an overhead line through Anmore. Further, even if the additional line was built underground, the three transmission lines that exist today would still remain overhead.
We will arrange the new lines to allow some magnetic field emissions from the wires to cancel each other out. This will decrease the overall magnetic field levels around the right-of-way corridor. More specifically, the magnetic field levels at the northern right-of-way edge will decrease and there will be no material change in the magnetic field at the southern right-of-way edge.
The electric field levels will not change.
For more information on this subject, please see the Anmore EMF Profiles Report [PDF, 843 KB] and Anmore Magnetic Field Profile summary [199 KB].