Remote Community Electrification Program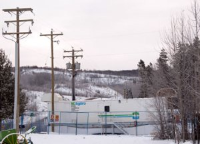 Helping communities switch to clean power
The Remote Community Electrification Program was established by BC Hydro in 2005 to help remote communities receive off-grid electricity service from BC Hydro. Often, this means a switch from diesel generation to our clean electricity.
Delivering clean, low-cost electricity to remote communities in B.C.

Remote communities often face challenges and very high costs with electricity service.
Many remote communities are interested in improving service to support social well-being and at the same time reduce their dependence on diesel-powered electricity for social and environmental reasons. These communities are often seeking clean, reliable, low-cost electricity.
To be eligible for the Remote Community Electrification Program, a community must have 10 or more permanent principle residences clustered in a given area. BC Hydro has identified between 30 and 40 communities that are potentially eligible for the program and which have on average 25 residences.
The Remote Community Electrification Program is part of Non-Integrated Areas group in BC Hydro's Transmission and Distribution business unit. Non-Integrated Areas currently provides electric utility service to 17 off-grid communities across British Columbia communities electrified through the Remote Community Electrification Program will be serviced by the Non-Integrated Areas group.
Please Note: BC Hydro is not accepting applications to the Remote Community Electrification Program at this time.
Feature community – Toad River
On October 31, 2009, BC Hydro began providing electricity to the first community to go through the Remote Community Electrification Program.
Toad River is a small community of about 60 residents, located in the Northern Rockies about two hours west of Fort Nelson on the Alaska Highway. It is not connected to the BC Hydro grid and residents had been self-reliant to power their homes and businesses before the project.
In the summer of 2010, the temporary station will be replaced with a permanent three-unit plant, located a short distance from the town. There are about 13 km of distribution line in Toad River, serving 30 residential and commercial customers.

Ownership of the power line and related equipment has been transferred to BC Hydro that is now responsible for all maintenance and repairs, outage response, billing and customer service.
The electrification of Toad River was made possible not just by the support of the British Columbia Utilities Commission, but also with the collaborative input of the community, the Northern Rockies Regional Municipality, the Ministry of Energy, Mines and Petroleum Resources, the Liard First Nation and BC Hydro.