Explore what Buntzen Lake has to offer
Safety updates and trail closures
If you're planning a visit to our recreation sites, we ask that you:
Bring hand sanitizer or sanitizing wipes to practice safe hygiene.
Stay home if you're sick.
Use the appropriate garbage and recycling receptacles.
Suspension Bridge closed for replacement

The suspension bridge is currently closed for replacement, which means that it isn't possible to do a complete hiking loop around the lake at this time. The timeline and schedule for the suspension bridge replacement hasn't been confirmed. Please plan an out-and-back or alternate hike route.
Trail closures: construction work
Due to ongoing construction at Buntzen Lake, the following trail closures are currently in effect until further notice.
Lakeview Trail northbound from Pumphouse Road to the merge point on Buntzen Lake trail. Southbound hikers are being directed off Lakeview Trail onto Buntzen Lake trail to continue their loop back onto Pumphouse Road.
Powerline Trail from Sasamat Lake to the top of Saddle Ridge.
Bearclaw Trail from Powerhouse Road to junction of Saddle Ridge Trail.
Please follow all directional signage and adhere to trail closure notices to ensure your safety.
Trail closures: rockslide
Both the Railway Trail and Reservoir Trail and related parking areas are closed due to recent landslides caused by heavy rain.
Following a rockslide, there's no pedestrian access on Powerhouse Road between North Beach and Buntzen Dam. Hikers completing the Diez Vistas trail should use the Old Buntzen Lake trail to access either Lakeview trail or the west side of Buntzen Lake trail to get back to South Beach and the main parking lot. Swan Falls trail is also inaccessible to hikers at this time.



With one visit to Buntzen Lake, you'll understand why it's our most popular recreation site. This picturesque lake is encircled by trails spanning through the forests ranging in difficulty from easy to challenging. Head down to the shore to enjoy your choice of two sandy beaches, or cast off in your boat for a day on the water. Bring your furry friend along to enjoy the off-leash dog area, or take your horse out on one of our equestrian-friendly trails. All of this is conveniently located in Port Moody's backyard.

Plan your trip before you go and find important notices about closures and parking here.




What Buntzen Lake has to offer
---
---
---
Pick your beach
Located right beside the parking lot, South Beach sports all kinds of outdoor activities. Set up your beach blanket for a day in the sun or unpack your lunch at one of the nearby picnic tables scattered across the sand. Anglers can often be spotted casting from the large dock extending from the beach. You'll also find a fenced-off area for your dog to stretch their legs and splash in the water. Large groups can choose to dine together under the communal picnic shelter, which is available on a first-come, first-served basis.
For those up for a walk, North Beach is located on the opposite end of the lake and is accessible from the Buntzen Lake Trail. Those willing to make the trek will be rewarded with views from this quieter beach, which includes a dock and nearby suspension bridge.
---
---
Get out on the water




Explore the lake from the water for a unique perspective of the site. Join other boaters and paddle 3 km from one end to the other through the calm waters of Buntzen Lake.

Kayaks, canoes and electric motor boats welcome

Use our boat launch at South Beach to navigate your non-motorized or electrically motorized vessel into the lake.

Rent a boat

Day use rentals are also available at the Anmore Store & Recreation Ltd. on Sunnyside Road near the entrance to the park.
---
---
Explore the lakeviews and forest trails




Trails in the Buntzen Lake area are varied enough to suit hikers of all levels of experience and ability. The surrounding Indian Arm Provincial Park and Belcarra Regional Park offer an abudance of trails in addition to those found at Buntzen Lake to make for a full day of hiking opportunities.

Cross a few bridges on your journey

Along the north end of the Buntzen Lake Trail, you'll come across a bridge suspended between North Beach and the west portion of the trail. The wide open area gives you spectacular views of the lake from every direction.

As you begin the Buntzen Lake Trail from the south end, you'll find our floating bridge. Cross over and choose from several routes to pursue. Keep your eye out for horses along the loop trail; this is a popular route for equestrian enthusiasts.

Climb the Diez Vista for an unforgettable viewpoint

If you're looking for a more challenging day, one of Buntzen's most popular trails offers challenging terrain. You'll be rewarded for your hard work with a glimpse of Deep Cove and the west coastline with one of B.C.'s most Instagram-worthy viewpoints.
---
---
Parking is regulated to ensure the safety of our visitors. Check for notices on our website before you go for important updates such as closure times (so that you can make sure your car is removed before the gate is locked).


Gate is locked for the day when lots are full

Our 600-stall parking lots can fill up early, especially in the busy season. Once lots are full, the entrance gate will be closed for the remainer of the day. This is to prevent lineups along the road, which could impede emergency access. No re-entry is permitted.

Public transit options are available

The 182 bus operates from Port Moody Centre Station to Anmore daily. The closest stop to the lake is stop #53245, Southbound Sunnyside Road at Anmore Grocery Store. It is a 2 km walk to the main parking area and South Beach. Follow signs that direct pedestrians to South Beach.

Translink offers the 179 seasonal bus that operates on weekends and holidays from Canada Day weekend through to Labour Day. The 179 departs from Coquitlam Central Station hourly and takes riders to the main parking area.

For bus schedules and information, visit the Translink website..
---
Lake Beautiful: then and now
---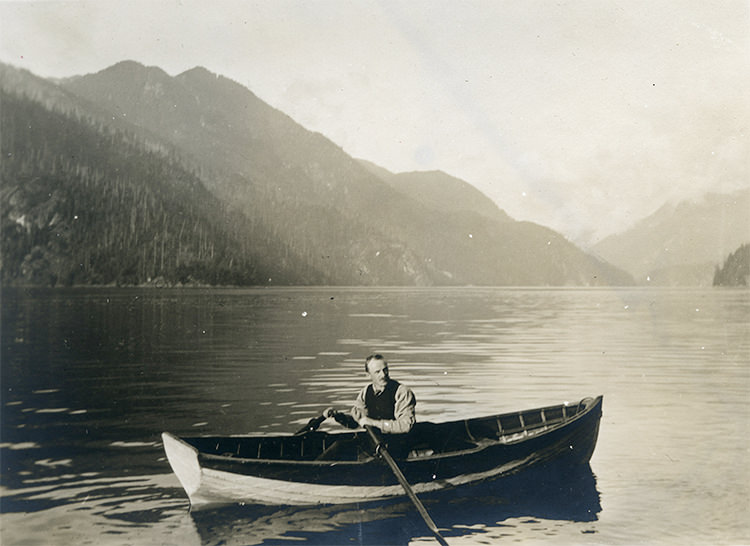 A powerful past
Located just north of Ioco Road about 30 km east of Vancouver, Buntzen Lake is a reservoir that's 4.8 km long and covers an area of 182 hectares.
Buntzen Lake was the first hydroelectric generating station in B.C. to provide power to the Lower Mainland. Before being put into service in 1904, the area was dependent on a steam plant for power supply. Two powerhouses once operated in the region with one being decommissioned in the early 2000s. Today, Buntzen No.2 continues to operate with a capacity of 55,000 kW of power.
Formerly known as Lake Beautiful, the lake is named for the first general manager of B.C. Electric Co., Johannes Buntzen.
---
---
---
See our other visual guides