Take a drive out to the Bridge River System
Safety reminders
All recreation areas (Seton Beach, Gun Creek, and Seton Campground) are open.
COVID-19 updates
We've implemented safety measures at our recreation sites and ask all visitors to:
Follow physical distancing requirements outlined by the Public Health Officer.
Bring hand sanitizer or sanitizing wipes to practice safe hygiene.
Stay home if you're sick.



Nestled into the range of the Coastal Mountains, you'll find the winding waters of the Bridge River flowing over 120 kilometres. The system is home to three of our dams and two recreation areas offering a selection of outdoor activities.

Bridge River is about a 4 - 5 hour drive from Vancouver. Both campgrounds are a popular destination for campers looking for a quiet getaway in this remote destination cut into the cliffs.

It's important to note: cellular phone service is unavailable in these areas so make sure to plan your trip before you go. Find directions, camping information and closure notices here.




What Bridge River has to offer
---
---
---
Pitch a tent lakeside at Seton

As one of our largest and most sought after camp sites, Seton doesn't disappoint. Lakeside campgrounds, picnic tables and amenities make this a worthwhile stop off for day visits or overnight trips.

Come early for free campsites

Choose from one of 45 spots to conveniently set up and settle in. Campsites are available on a first-come, first-served basis at no charge. Purchase firewood on site for a small cash fee during the burning season. You'll also find an array of hiking trails and picnic tables located nearby.

Picnic area and amenities are close by

Three kilometres away from the campgrounds, you'll find our new Naxwit (pronounced Nack-wait) picnic area. This 14-table area is equipped with washrooms, drinking water and educational signs detailing facts about the local ecology. Remember to look up from your lunch for a chance to spot local mountain goats scaling the cliffs surrounding the site.
Kick back in the mountains of Gun Creek

Located on Carpenter Reservoir, this free campground is a great base for wilderness seekers touring the area, including Tyaughton Lake and the area's famous mountain bike trails.

Set up a tent or RV on the grounds

Gun Creek rec area is available all year round, including adventrous campers ready to brave colder conditions.

Camping not for you? The more luxurious Tyax Wilderness Resort is just 20 minutes away by car.

Be aware of fluctuating water levels

Carpenter Lake Reservoir fills by late June and water levels remain high until early November. At low water levels, visitors can explore the remains of the historic mining town of Minto, which sustained flooding back in 1950.
---
---
Explore the nearby hiking trails

A selection of hiking trails are accessible by foot, bike or vehicle from the campgrounds. Find a list of various trails on the City of Lillooet's website here.

Seek out the hidden viewpoint

For hikers, the Seton Viewpoint is not to be missed. Access the trail by foot from the campsite and journey up the 3.3 km easy to moderate trail to reach the viewpoint and take in the emerald-green waters of Seton Lake Reservoir and the surrounding Chilcotin mountains.

Take ride down world-class biking trails

In the backyard of Gun Creek campground, you'll find a network of mountain bike trails ranging in difficulty. Take water and a camera, as there's a variety of Instagram-worthy viewpoints to stop and capture on your adventure.
---
---
Spend the day on the water

Paddling or power boating are great ways to get out and appreciate the massive mountains surrounding the lakes.

Head into the turquoise waters of Seton Lake

The boat launch at our rec site gives you access to the lake. For anglers, the lake is home to rainbow trout, mountain whitefish, kokanee and some sturgeon. Fishing activity is usually at its peak during the spring and fall.

Pink, chinook, coho and steelhead salmon are also all present in the Seton River, and two spawning channels are located near the south side of the river.

Try your luck fishing at Gun Creek

Fishing on Carpenter Lake Reservoir is generally best at river and creek mouths, including Gun Creek. So don't forget your fishing tackle, so you can take a run at Dolly Varden char, rainbow trout and kokanee. Fish from your boat at the mouth of the creek, or try your long from shore.
---
The Bridge River system history
---
A powerful past
The Bridge River hydroelectric complex is made up of three dams and stores water for four generating stations. The system uses Bridge River water three times in succession to generate 6 to 8 per cent of British Columbia's electrical supply.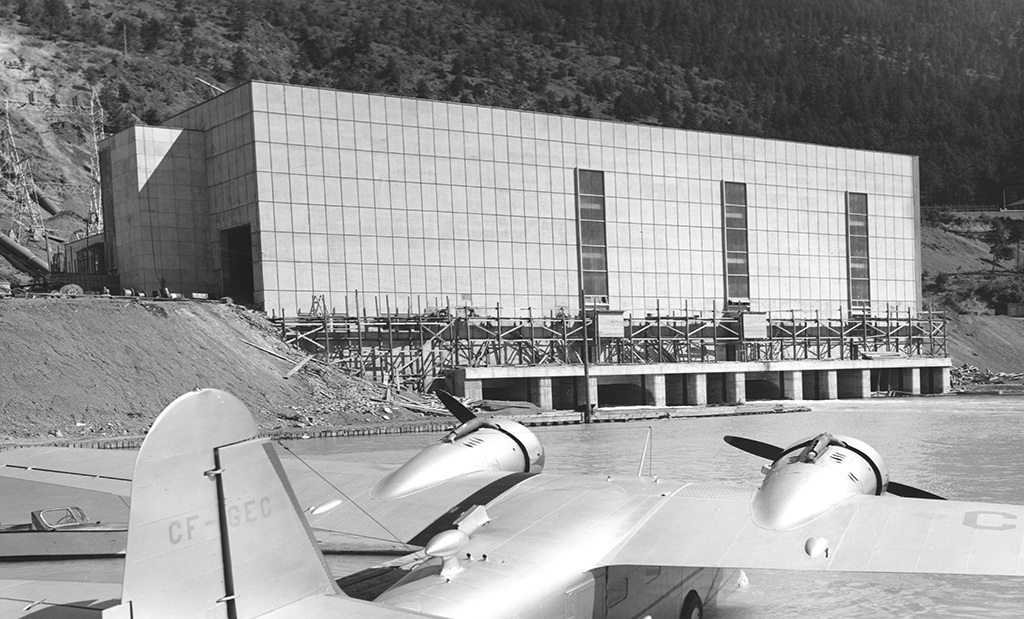 Work on Powerhouse No.1 was postponed until 1946 due to the depression and war years. However, growing power requirements of the post-war era gave the project great urgency.
The building was rushed to completion and the first generator was installed in1948. At the time, it was the largest source of power in B.C.
---
---
---
See our other visual guides