Online Billing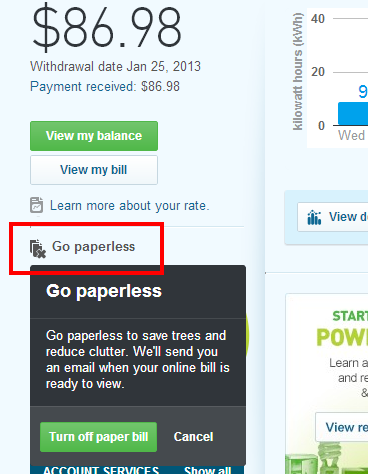 Switch to online billing
Save time by switching to online billing and managing your account with MyHydro.
MyHydro gives you the power to
View your bills online 24/7, go paperless and get bill reminder emails
Access your payment and consumption history
Set up pre-authorized or equal payment plans to make budgeting easier
Steps to switch to online billing
If you already have a MyHydro Profile,
Select the "Go paperless" button on the left.
Click "Turn off paper bill"
New to managing your account online?
Create a MyHydro Profile. We just need your name, email, a password and a security question to get started.
Link your account to your MyHydro Profile. "Online bill" automatically becomes your bill format.
View your bill online
Once you switch to online billing, your next bill will be online. You will receive an email when your bill is ready. To view your bill, log in to MyHydro and select View bill.
Go Paperless 2013 contest winners
Thanks to everyone who switched to online billing and entered the Go Paperless contest last September. We received over 6,900 entries and three winners were randomly drawn and awarded a Samsung Galaxy Tab 3. Learn more.