Electrical Safety in Your Neighbourhood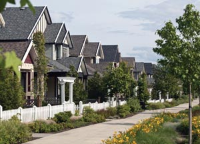 Tips to keep you safe
Know what's beneath the ground before you dig a hole. Learn what you need to know about planting and pruning around power lines.
Call before you dig
604 257 1940 in the Lower Mainland
1 800 474 6886 toll-free elsewhere in B.C.
Nobody can see what's underground. So call before you dig to find out what's down there.
You could hit a buried cable, conduit, gas line or pipe line. Call to find out where it is safe to dig.
Your call is free, regardless of where you live in B.C.
Vegetation and power lines
We distribute power to more than three million British Columbians, and when trees and tree branches come into contact with our lines, the result is trouble. In fact, trees account for more than half of all power interruptions in B.C.
And because knocked down or broken power lines can kill, we spend millions every year to manage vegetation growing near BC Hydro equipment.
Weeds in and around our facilities can be hazardous to you and our employees. We comply with the Pest Management Plan for Management of Vegetation at BC Hydro Facilities [PDF, 400 KB]. For facilities location map, see Vegetation Management Sites [PDF, 3.6 MB].
With respect to our transmission and distribution systems, we have a wood pole test and treatment maintenance program that ensures reliability while respecting the environment.
Dead and dying pine beetle-infested trees threaten thousands of kilometres of BC Hydro distribution lines. Our Forest Health Issues Program works with landowners, government agencies and other stakeholders to manage these trees.
Homeowners
We recommend that you hire professional tree firms to prune trees.
If necessary, we will remove service wires to allow for safe pruning and will reinstall the wires when the job is complete. In most cases, there is no charge for this service.
Learn more about planting and pruning near power lines and planting near transformers.
Christmas trees
BC Hydro does not own the land under power lines. The Ministry of Forests, Lands and Natural Resource Operations is responsible for issuing permits to cut trees.
Contact your local Forest District Office to learn about the local policy. Areas where cutting is permitted may include rights of way.
Electric and magnetic fields
Electric and magnetic fields, although commonly referred to together as electromagnetic fields (EMF), are actually distinct components of electricity.
And they are present everywhere that electricity flows. Your appliances and the wiring in the walls of your home produce both electric and magnetic fields.
Most of the interest regarding possible health effects is related to magnetic fields. Usually, when the term "EMF level" is used, it refers to the measurement of magnetic field strength.
Electric fields
Electric fields are produced by voltage in a wire. For example, an electric field is present when an electric appliance is plugged into an outlet, even if it is not turned on. Electric fields can be blocked or shielded by objects such as buildings or trees.
Magnetic fields
Magnetic fields are produced when electric current is flowing, so they are only present when an electric appliance is turned on. As the flow of electricity – the current – increases, the magnetic fields increase. Magnetic fields pass through most objects and cannot be blocked as easily as electric fields.