Energy Management Assessment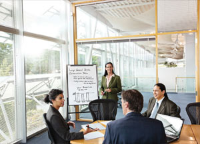 Take the first step
Energy management workshops are available top help improve your organization's energy management practices.

Improve your energy management practices
Participating in an Energy Management Assessment workshop will help you take the first step towards improving your organization's energy management practices. It involves:
A diagnostic workshop with senior management,
Responding to a series of questions regarding energy management which produces a detailed report that highlights areas of opportunities within your organization,
Working together with BC Hydro to provide you with resources to implement recommendations and develop action plans,
Conducting a benchmark analysis which ranks your organization against other within your industry, and
An annual review to track progress and highlight new opportunities.
By adopting a continuous improvement approach, you can achieve significant and sustainable savings in energy use and cost.
Find out how Energy Management Assessment can benefit your organization.