Buckley Bay Substation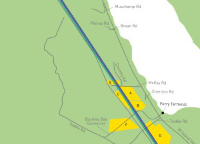 Increase electricity reliability
The Buckley Bay Substation Project helps meet growing electricity needs in the Comox Valley. Load forecasts show the Comox and Puntledge subtations will soon exceed capacity.
Latest news

Project background
There is an urgent need for the Buckley Bay Substation. This new substation will help relieve the electricity supply constraints in the area by offloading the electricity loads of Puntledge Substation in Courtenay, Comox Substation in Comox and Qualicum Beach Substation.
With the addition of the Buckley Bay Substation customers between Courtenay/Comox and Qualicum Beach and on Denman and Hornby Islands will be served by four substations. The Buckley Bay Substation will increase electricity reliability in the region and ensure fewer outages and faster restoration of power should an outage occur.
What's being done
This project includes:
The construction of an open-air substation to be built next to existing transmission lines
A new service road from the Inland Island Highway
Underground distribution circuits that will connect the substation to the existing above-ground distribution lines along West Island Highway
An Environmental Management Plan (EMP) will be completed for the project and environmental monitors will be on site monitoring construction activities during critical periods ensuring compliance with the EMP.
Substation location
The new Buckley Bay Substation site was chosen for its proximity to existing transmission and distribution lines to meet the future load growth in the Comox Valley area. We are confident that the site selected will have a low impact on the environment and the community.
Other sites considered
The project team examined numerous properties between the Tsable River and McLeod Road. See the Sites Considered map [PDF, 1.4 MB] and Sites Preferred map [PDF, 1.2 MB] for more information.
Construction Schedule
Milestone
Date
(subject to change)
Partial tree clearing / geotech study
April to June 2011
Capital approval
May 2011
Land purchase completed
July 2011
Site preparation
January to June 2012
Construction
June 2012 to September 2013
Equipment commissioning
August 2013 to October 2013
Project in service
October 2013