Prepare for installation At Your Home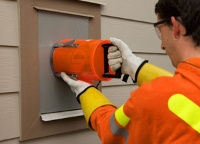 A letter will notify you in advance
All customers will receive advance notification that smart meters are coming to their community, including a letter from BC Hydro [PDF, 149 KB] a few weeks prior to their installation date notifying them of the exchange.
Preparation Checklist
You don't need to be home for the meter exchange to happen.
Provide clear and safe access to your electricity meter. Please ensure there's nothing blocking your meter, such as locked gates, bushes or boxes around meters.
Tell the people in your home about the upcoming smart meter installation, as there will be a brief electrical outage, typically lasting 60 seconds. On the day of installation, keep dogs or other pets inside or safely away from the meter.
What to expect on installation day
BC Hydro Smart Meter Installation
Installers will be clearly identifiable
BC Hydro and Corix, our B.C.-based authorized contractor, will be installing smart meters in homes and businesses across the province. Corix has been contracted to perform meter installations and has broad local knowledge and experience installing meters.
Corix employees will be clearly identifiable by signs on their vehicles, logos on their uniforms, and photo identification badges.
You don't need to be home during installation
You do not need to be home for the installation, as long as we have safe and clear access to your meter. If you meter is inaccessible, the installer will leave a card [PDF, 789 KB] instructing you to call and schedule an appointment.
Installers will knock on your door
The installer will knock on your door and if you are home they will notify you of the exchange and give you time to shutdown and unplug any equipment, such as your computer. If you are not at home, and it's safe to do so, we will proceed with the meter exchange. In most cases, the exchange will take less than 10 minutes.
You will experience a brief power interruption
The power interruption will typically last 60 seconds and may require you to reset your clocks and electronic devices.
After your new meter is installed

Once your new smart meter has been installed, you'll receive a brochure [PDF, 749 KB] that includes more information about the Smart Metering Program and how it benefits you.
You don't need to do anything at all to activate your new smart meter.