What's Being Done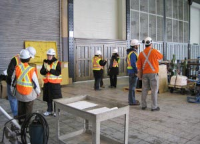 Powerhouse, seismic upgrades key to project
This project upgrade will meet modern safety and seismic requirements and replace the powerhouse equipment, which is in poor condition. It is expected to take six years to complete.

Reinforcement of the right bank
The right bank supports the right end of the dam and is founded on a rock ridge 15 metres below the crest of the dam. It consists mainly of glacial silts and erodible sands.
The upstream face of this bank is protected by a concrete gravity wall. This area has experienced seepage and piping issues since the project was commissioned in the 1930s.
This seepage has been monitored since the 1930s and has, over time, weakened the bank. BC Hydro is proposing to reinforce the right bank by:
Anchoring the existing upstream concrete gravity wall;
Installing jet grout columns and a new seepage cut-off wall;
Reinforcing the downstream retaining wall.
Seismic upgrade of the dam and water intakes
Spillway piers and gates
Spillway gates are moveable water barriers that retain the reservoir while also being able to discharge water when required. The spillway gates must be able to operate reliably following an earthquake and safely pass water during a significant flood event.

There is a concern that in a major earthquake event, the piers could deform, rendering the spillway gates inoperable. To mitigate this risk, BC Hydro will replace the existing six piers and seven spillway gates with four piers and five spillway gates. This work will also include installation of new gate operating systems.
Once the Ruskin Project is complete, BC Hydro expects that the piers and spillway gates would be able to survive a significant earthquake and be able to operate reliably.
Seismic stability of the water intake and conveyance structures
The water intake structures (e.g. tunnels and penstocks that move the water from the reservoir to the powerhouse) for unit 1 and 2 are in relatively good shape and will require only minor repairs.
Some additional work is required on the unit 3 water intakes to address some seepage issues.
Powerhouse upgrades
The powerhouse building will be seismically upgraded to meet modern building code standards, and the heritage façade will be restored.
Inside, BC Hydro will replace most of the existing powerhouse equipment, including the three turbines and generators. The generating units will be replaced sequentially, allowing the facility to remain in service during project construction.
Relocation of the switchyard
The switchyard will be moved off the powerhouse roof. A new switchyard will be built on the left bank hill behind the powerhouse.