Project Background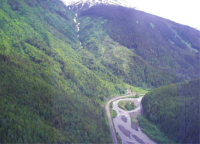 A region with great potential
Historically, much of northwestern B.C. has lacked transmission infrastructure, yet the region holds the potential to deliver major economic benefits through responsible industrial development.
Project benefits: the power to attract, support industrial growth
The northwestern B.C. area is positioned to provide additional electricity through clean generation projects. Long-term access to safe, reliable, and clean electricity is the backbone of B.C.'s growing economy.
At present, BC Hydro's high-voltage electricity transmission grid does not extend beyond Meziadin Junction to the north and Stewart to the west. Lack of grid power is viewed by many as a barrier to economic growth.
The Northwest Transmission Line will provide a reliable supply of clean electricity to attract and support new industrial growth. New industrial developments, such as mines, would support overall economic development in the region, by providing direct employment and encouraging development of retail and other support services.
New sources of clean electricity
NTL will also provide a secure point of interconnection to the electricity grid for new sources of clean electricity developed by independent power producers (IPPs).
By providing a source of clean power to industrial development — and by facilitating interconnection to the grid by the community of Iskut, which currently relies on diesel generation — NTL will help reduce greenhouse gas emissions.
These benefits extend beyond northwest B.C. A robust northwest economy, clean power and lower emissions will benefit our entire province.
Clean Energy Agreements
On May 28, 2010, clean energy agreements between BC Hydro, BC Transmission Corporation (BCTC), Coast Mountain Hydro L.P., a wholly owned subsidiary of AltaGas Income Trust Ltd. (AltaGas), and the Tahltan Nation were announced by the Ministry of Energy, Mines and Petroleum Resources.
These agreements include:
A $180-million umbrella agreement between AltaGas and BCTC for the construction and development of the NTL;
An electricity purchase agreement between BC Hydro and AltaGas for the Forrest Kerr clean energy project near Bob Quinn Lake; and
An impact benefit agreement between AltaGas and the Tahltan Nation for the Forrest Kerr project.
The NTL project also includes $130 million in funding through the Government of Canada's Green Infrastructure Fund, announced by Prime Minister Stephen Harper in September 2009.
The estimated ratepayer contribution to the NTL is expected to be offset by contributions from future clean, renewable energy projects and/or mine developments, under Tariff Supplement 37 [PDF, 181 KB], approved by the B.C. Utilities Commission on April 10, 2013.