John Hart Generating Station Replacement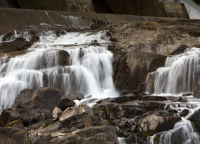 Upgrade to address seismic risks & more
In operation since 1947, the John Hart Generating Station on Vancouver Island needs to be replaced to address several concerns including seismic, risks to fish and fish habitat, and long-term power reliability.
It's time to address seismic risk, fish impacts, reliability
Located within the City of Campbell River on Vancouver Island, the John Hart Generating Station has been operating since 1947 and is one of the oldest generating facilities in BC Hydro's hydroelectric system and one of the most important assets on Vancouver Island.
It was the first of three generating stations constructed on the Campbell River System.
The John Hart Generating Station has provided clean, reliable power for 65 years and, on behalf of its customers, BC Hydro is making a major investment in the facility to ensure it continues to deliver value for years to come.
BC Hydro has engaged the Campbell River community for over five years on the John Hart Project. There is strong stakeholder support and BC Hydro continues to consult with First Nations. First Nations and all key stakeholders are involved as the project proceeds to next steps.
There are three key reasons why BC Hydro will modernize and transform the John Hart facility:
Safety – The pipelines and generating station may not withstand a low to moderate earthquake;
Reliability – The six generating units are in poor condition and their capacity is declining; and
Environment – The environmental risk of a generating station shutdown and river flow reduction, with subsequent impacts to fish habitat.
See the video for more information of the project.