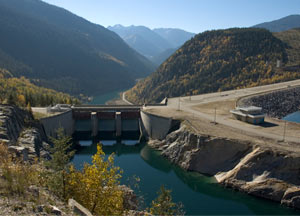 Hydroelectricity powers B.C. forward
At BC Hydro, we deliver reliable, clean power to homes and businesses across British Columbia.

We have 30 generating stations and more than 75,000 kilometres of transmission and distribution lines that span our province.
Growing demand, aging facilities: it's time to reinvest in our system
B.C.'s population is expected to grow from 4.6 million to 5.7 million people in two decades. We are investing to support the energy needs of 1.1 million more British Columbians and the economic activity that they'll generate.
Most of our system was built between the 1940s and 1980s. The oldest parts need attention now. We are upgrading, and in some cases replacing our oldest assets such as aging high-voltage transmission lines, dams and power generating stations.